I received product from G-Shock in exchange for an honest review. All opinions are honest and my own.
Honestly, every single year my husband becomes harder and HARDER to buy for. Father's Day seems even more difficult because it is only a few short weeks after his birthday. Meaning, he has just received gifts he may have wanted or we showered him with homemade/ kid created crafts. So I am forced to get pretty creative and find gifts for my officer that will totally surprise him even when he has all he could ever want or need. Or even when he says "I don't need anything". :/ We all know how that goes, right? That is a frustrating statement for a wife to hear, to say the least.
Tired of struggling with night shift?
You CAN find balance while your officer works night shift! This handy NIGHT SHIFT ACTIVITY LIST & TRACKER will help prepare you for any long nights ahead. Join over 2,000 fellow police wives and download your copy today!
So this year I had to really come up with a list that covers all the bases, yet are still things I know any father would love. From loving gifts from the kids to practical gifts from the whole family and more in between!
Totally awesome gift ideas for the officer that has it all:
Photo Book:
Companies like Shutterfly or even stores like Target and Walmart, allow you to make quick and easy photo books. Whether your husband is a father-to-be or dad of many, you can creatively make a book full of photographic memories. I personally like the smaller books because my officer can tuck them away in his police cruiser and view them any time on the job when he is missing home.
G-Shock watch:
What officer does not need a watch? My husband loves the G-Shock watch because it is tactical looking, fits in with his uniform style, and has all the features he needs on or off duty. He looks at his watch often whether it is for the date when he is writing tickets or the time throughout the day.
My husband loves the GA700 G-Shock because it comes in military colors; he went with the dark grey. This particular watch is water resistant (up to 200 meters) and he prefers it because it has a LED Light which is a huge bonus while he is working night shift.
It also includes:
-a stopwatch
-4 daily alarms
-1 snooze alarm
G-Shock also offers a Thin Blue Line version through select retailers.
A gift certificate for a day at the range:
So many times our husband's have to go to the range when it is mandated by the department. And it is never as fun when you are told, right? For so many of our officer's time at the range is their version of self-care. They can blow off some steam, work on their shot and have fun all at the same time. Even throw in a box or two of ammo and you are set for a pretty awesome gift!
A swag bag:
Okay, you don't have to call it that, but essentially this is a bag or box filled with his favorite things. You can even pick a theme if you want. You could make a thin blue line version with small things from various police related companies. If you want to shy away from police related items, you could fill it with things like: beef jerky, new sunglasses, trail mix or snack bars, gatorade, homemade muffins or cookies, a new shirt or pair of flip flops for summer, a cooling towel (have you seen this? they are totally awesome) for when he is working or doing yard work, small increment gift cards to his favorite coffee shop or restaurants, the list is endless, really!
Coffee and a new Tumbler:
My hubby LOVES and LIVES off of coffee. He has tried every brand and he can't get enough of Blue Angel Coffee. It has darn delicious coffee and they back the blue- what's not to love?
We both also have tumblers from Blue Angel and they are sturdy and keep whatever drinks we have in them the perfect temperature for HOURS!
A surprise family day:
Sure, you may do the typical thing and go out to eat on Father's Day, but why not surprise him with something different or surprise him all day long? Spend the day as a family and make the day centered around your husband. This is great if you are looking for a low budget idea.
Here are some surprises you could do throughout the day:
-breakfast in bed
-go on a hike
-go to a brewery
-go to a baseball game
-play games as a family
-cook him dinner or grill out
-spend the day on the water: beach, lake, by the pool
-create homemade letters for dad that tell him why the kids love him so much. Or fill out these little forms and have the kids answer questions about Dad. This website, Sunshine and Hurricanes, has a printable questionnaire that any Dad would love! 
And because you are a law enforcement family, you may have to celebrate another day, and that is okay! Embrace it as best as you can and I am sure whatever day you celebrate will be equally as special!
So tell us, what do you plan to gift your husband on Father's Day this year?
FREE Police Wife Guide- Top 10 Ways to Rock Police Wife Life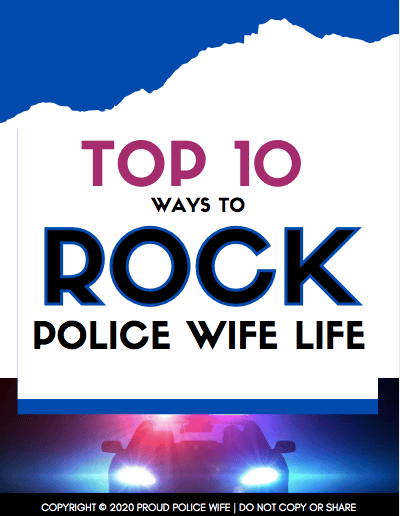 Learn to rock police wife life with these 10 easy tips! Join over 20,000 fellow police wives who are learning to rock it and feel supported with our help each week! Once a week I will provide you with even more ways to feel encouraged and supported for your law enforcement wife journey with my newsletter.
Read my PRIVACY POLICY here.