A super popular post of mine is about 7 must-have apps for police wives because most of us use our phones on a daily basis and are looking for ways to access information in quicker time and find helpful ways to make life easier.
Since writing that post, I have found or used even more apps that police wives and officers can benefit from in some way. Whether they help with communication, scheduling, relaxation or time, I am sure you will find a new app to help you or your officer!
Essential apps for police wives + officers:
Calm is a meditation and sleep app ideal for helping you relax. I actually just downloaded this app after it was recommended to me. You can pay for the premium option but I do not. I like that it instructs me to "take a deep breath" and the calming sounds/music. It helps me go to sleep at night and relax if I can't seem to turn my brain off.
This is a great app for staying connected. If you have teenagers with cell phones and you need to keep a close eye on them, then it would be very beneficial as it shows you a person's location. It can also be good if you have fear/worry with your officer's job as you can see they are on their way home.
This app is very similar to Life 360 as a way to locate people.
The Fam Cal App is a shared family calendar app that helps you stay connected. If everyone if your family (or you and your officer) both download it, you can stay connected easily. It allows you to plan for events, schedules appointments, create a shared calendar, create shopping lists, and get organized as a family.
Anytime you are planning to make a purchase online, go through your Ebates app to save money! You just simply click on the app, search for the website you are planning to buy from and see if they offer cash back for that website. About 2,500 websites are currently available through the app. On average, I get about $2-$3 back with every purchase from websites offering cash back through Ebates.
Grab the All-in-One Police Wife Reference Guide
Grab this handy reference guide for all things police wife! From important dates & events to resources for law enforcement- all in one place! Subscribing also gets you access to my weekly newsletter full of tips and encouragement.
Read my PRIVACY POLICY here.
Tip: if you check for a website through the app and they don't offer cash back at that time, be sure to check every time. Cash back offers are always changing.
So many of us use Amazon nowadays right? The app makes life so much easier and you can order things at the press of a button. Don't go another day without downloading this app.
Amazon always seems to have items much cheaper than the store and it saves you a trip. What's not to love?
I use Instacart on the regular! If time doesn't allow for grocery shopping or my little ones are tired or sick and going to the store isn't in the cards that day, I use Instacart to have groceries or diapers delivered right to our door. It is 100% worth the small fee to avoid tantrums in the store or my sanity.
What apps does your family use and love? We would love to know so we can check them out, too!
FREE Police Wife Guide- Top 10 Ways to Rock Police Wife Life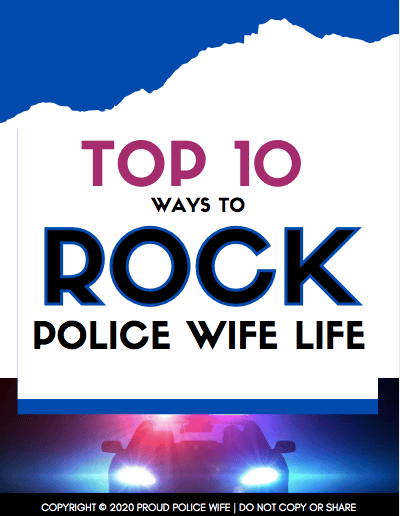 Learn to rock police wife life with these 10 easy tips! Join over 20,000 fellow police wives who are learning to rock it and feel supported with our help each week! Once a week I will provide you with even more ways to feel encouraged and supported for your law enforcement wife journey with my newsletter.
Read my PRIVACY POLICY here.