This post is sponsored by Millecor. All opinions are honest and my own.
As police wives we hear it all the time- our officers are tired. Long hours, shift changes/rotations, crazy calls, night shift- the list goes on and on. Coupled with the fact that it is winter and we have reduced day light, it is hard for our officers to have the energy they need while on shift.
As a wife, the last thing I want is for my spouse to go to work tired, stressed with low energy. And I am always asked about ways to boost energy for police officers that's realistic.
Here are some sure fire, healthy ways to boost energy that anyone can start implementing today.
Ways to boost energy for police officers that are realistic:
Be strict about a sleep routine.
This may feel pretty impossible considering police officers often work shift work and have to add training, court and overtime into their schedules. But if you can commit to protecting your sleep routine (7 or 8 hours at least) then this will help boost your energy completely.
Don't allow phones and video games to be a distraction to stay up even later. Relaxation is important but not if it always cuts into your sleep routine.
Increase movement/ exercise.
I always thought it was counterintuitive to work out when I felt tired but nothing could be further from the truth. Working out and getting those endorphins flowing will provide you with a good amount of energy. And if you work out or commit to movement throughout the day on a consistent basis, then your energy level will increase.
Millecor Supplements:
For added boosts of energy, I highly recommend Millecor. For everyday energy to get through another night shift or supplements for your daily workouts, my husband and I were really impressed with the taste (and believe me, I've tried my fair share of supplements that are chalky and leave a gross after taste- this would NOT be one of those).
If your officer is relying on crappy energy drinks, then ditching those and going with Mayhem energy is a much healthier option. Mix one scoop with water and you're good to go.
We also really like the Whey Protein by Millecor. The chocolate milkshake flavor is fabulous and one of the best I've ever had. Not chalky AT ALL and great for muscle building with added proteins for extra energy.
Millecor is a veteran and law enforcement owned company that provides trusted supplements while giving back to first responder and veteran non-profits.
Grab yours by using my discount code: PROUDPOLICEWIFE (not case sensitive) to get 25% off your order. Shop now.
Grab the All-in-One Police Wife Reference Guide
Grab this handy reference guide for all things police wife! From important dates & events to resources for law enforcement- all in one place! Subscribing also gets you access to my weekly newsletter full of tips and encouragement.
Read my PRIVACY POLICY here.
Find a healthy way to reduce stress.
Decompressing and relaxation are VITAL for any first responder. When your officer first comes home he/she should decompress at least 20 minutes as their bodies are still "on shift" even if they are not physically working.
In addition, finding other stress relievers is important. Going to the range, being outdoors, hunting, sports, video games (yes, even video games), walking the dog while listening to music are just some ways to de-stress. Encourage decompression regularly for healthy amounts of time.
Again, it is so important that law enforcement officers find healthy, natural ways to boost energy that are sustainable. Quick fixes just won't work forever and living a healthy lifestyle will help your officer physically and mentally on and off the job.
FREE Police Wife Guide- Top 10 Ways to Rock Police Wife Life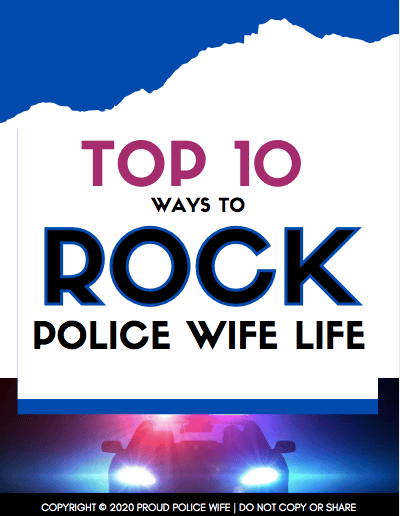 Learn to rock police wife life with these 10 easy tips! Join over 20,000 fellow police wives who are learning to rock it and feel supported with our help each week! Once a week I will provide you with even more ways to feel encouraged and supported for your law enforcement wife journey with my newsletter.
Read my PRIVACY POLICY here.