This is honestly such a popular question that I get asked ALLLL the time. Mostly from police wives that want to start a local spousal group through their agency or in the area where their spouse works.
And it is no wonder that this is such a popular question: as spouses of police officers, we need support. Most of us long for friendship with others that experience the same journey as us. We are looking for people who "get it".
Spousal groups can be so beneficial and wonderful if done in the right way. They can not only be a great way to find friendship but they can also serve to be an organized way of providing support to local law enforcement officers and their families.
Here are some tips and ideas for how to begin.
Tips for Starting your Own Police Spousal Group:
First, there is no right or wrong way for starting your own group. There are many ways to get one started but often getting started is the hardest part. Below are things to think about as you may start your own group or seek one out to join.
-What is the goal or purpose of the group?
If the group is just a gossip hour or has no clear direction then I don't see it being very successful. Decide on your groups goal. Maybe it is to just provide support to families when they need it like meal trains when someone is sick or has a baby. Or is the goal to do small fundraisers throughout the year to put together police bags for the officers in the department and ways to show appreciation.
If you want to hold fundraisers and larger events to take in money, you'll probably need to file for non-profit status.
–Recruit other spouses
Obviously you can't have a group alone. Even if you only know one other spouse in the department or area, ask them to join you. Chances are one spouse knows another spouse and you can use word of mouth to share interest about the group.
To keep members engaged, I recommend opening a closed facebook group just for organization purposes. This will not be a typical police wife facebook group- make it clear that it is simply to post information about meetings, events, new members, etc. Be sure to keep the group closed or hidden, so others can not see your information/posts. You will have to approve each member and obviously only let spouses in that you know or one of your group members knows.
-Decide if you want to be affiliated with the police department or not
There is no wrong answer here, you just simply have to decide if this is what you want or not and/or if the department is on board.
I know some groups that run smoothly being associated with the department, but I will say, most of these are run with a police officer that is also a spouse, so they have some sort of connection to the department other than just being a spouse.
I also know many groups that do well staying separate. These groups more so are just for support for families and offer meals, baby showers, provide a list of phone numbers to other spouses in case of emergency, etc.
Once your small group is formed, talk about what you think would be best. If you want to be affiliated with the department, then definitely speak to someone within the department that can give their approval first.
–Delegate Roles/Jobs
You can't do everything alone. So once your group is mostly formed and you feel like you have a good number of spouses to begin, it is time to delegate. Decide on roles that will need to be filled. Ask spouses which roles they would like to take or ask spouses if they would be interested in filling those roles.
If you are a non-profit or plan on being one, you may have a board with a President, Vice President, Treasurer, etc.
If not, you could have slightly different roles like Volunteer Coordinator/Recruiting, Social Media Coordinator, some in charge of meal trains, someone in charge of organizing support for crisis/traumatic events, etc.
If you still have questions or want to see an example of a successful police spousal group, I recommend checking on Behind the Line Baton Rouge on Facebook. This is run by a great friend of mine and they are very successful. They have a public Facebook page where they share what they do in their community and for law enforcement, but they also have a closed group just for their members.
FREE Police Wife Guide- Top 10 Ways to Rock Police Wife Life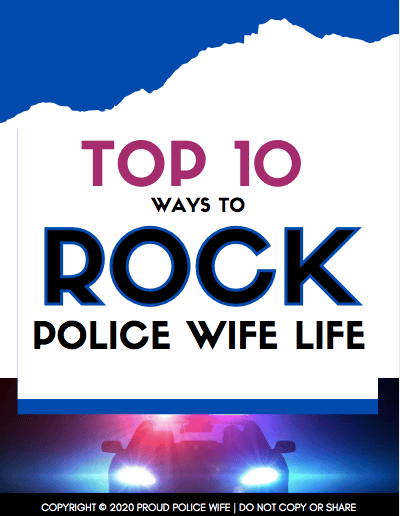 Learn to rock police wife life with these 10 easy tips! Join over 20,000 fellow police wives who are learning to rock it and feel supported with our help each week! Once a week I will provide you with even more ways to feel encouraged and supported for your law enforcement wife journey with my newsletter.
Read my PRIVACY POLICY here.