There is nothing more difficult than planning for meals around the holidays when your officer is working. Are you supposed to make a meal and keep it warm? Do you pack meals for your officer to take? Do you wait to eat until after he is home? Or before? Cook just for you?
Truly, the possibilities are endless (and sometimes exhausting).
All of our specific situations are different. So I tried to find the best AND most simple recipes so we don't go insane while cooking during the holidays! These recipes double for both Thanksgiving and Christmas!
Recipes/meals that will make holiday time a lot less chaotic:
Store/restaurant bought. Yep, that is the route we are taking this year and I have zero guilt. Large chain grocery stores usually have ready made meals you can purchase but be sure to put in your order ahead of time. Also, restaurants like Cracker Barrel offer ready made meals, too. They are just as good and require no mess of your kitchen. And in my opinion, the cost is comparable if you made a large holiday meal at home anyway.
Tip: If you are cooking, try to make ahead as much as you can. Make it, freeze it then pull it out to cook when needed!
Recipes that save you time & from doing the dishes:
Plus, you can keep that crockpot on warm if your officer will be home in a reasonable amount of time. If not, check out the leftover ideas below.
Easy Crock-Pot Turkey from Practical Stewardship. Just make sure you get a bird that fits well in the crock pot. 🙂 For no mess, grab these Crock Pot Liners that keep your crock pot super clean!
Ultimate Healthy Slow Cooker Thanksgiving Dinner from Run to the Finish. Seriously, this is PERFECT to dump together for when your officer is working and he/she can have a hot meal when shift is over. Or if you are alone with kiddos while your officer is working, this is easy as can be and you can get back to watching the Thanksgiving parade or opening presents. Also, this meal is not limited to Thanksgiving, it is great for Christmas, too!
Recipe and Photo from Run to the Finish
Instant Pot Mashed Cauliflower with Garlic and Chives from Diethood. These look delicious and super healthy.
Instant Pot Mashed Potatoes from The Recipe Rebel. If mashed cauliflower isn't your jam, these may be. I make these on the regular!
Slow Cooker Creamed Corn from Favorite Family Recipes. This is such an easy dump and go recipe! This could also double as a potluck dish.
Slow Cooker Green Bean Casserole by The Magical Slow Cooker. Could this not be any easier?
Recipe and Photo by The Magical Slow Cooker
Slow Cooker Candied Sweet Potatoes by Six Sisters' Stuff. This looks melt in your mouth good. You could save this for dessert, too!
Recipe and photo by Six Sisters' Stuff
For your officer/Leftover ideas:
All the crockpot meals above are great for your officer, but if you want your officer to have a little taste of your holiday meal on duty, try these.
Turkey Stuffing Muffins from Just a Taste. So quick to make and fun for the kids, too! You can eat them cold or warmed up.
Thanksgiving Leftovers Turkey Sandwich by Homemade Interest. My husband and I make these every Thanksgiving and Christmas night; they are SO good!! No reheating required.
Recipe and photo by Home Made Interest
Potluck dishes:
If you are joining another family or friends during the holidays and need to bring an easy dish that will blow them away, here is what I found
Cranberry Apple Pecan Wild Rice Pilaf by Carlsbad Cravings. That's a mouthful but it is ONE POT so what's not to love?
Dessert:
Slow Cooker Pumpkin Dump Cake by 365 Days of Crockpot. The name says it all: dump cake!! Easy as pie- no pun intended 😉
Recipe and photo by 365 Days of Crockpot
So now I am hungry because I have been looking at delicious recipes for hours! I hope these recipes make your holiday a bit easier this year and help your officer enjoy a tasty meal, too!
FREE Police Wife Guide- Top 10 Ways to Rock Police Wife Life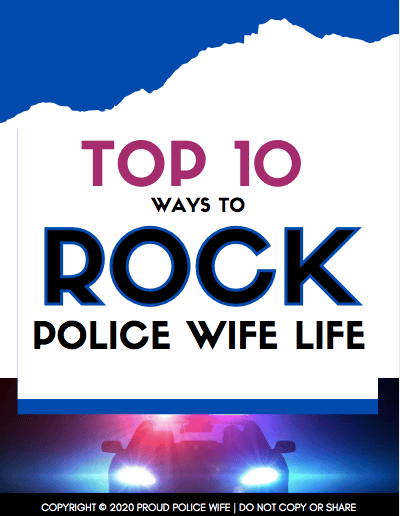 Learn to rock police wife life with these 10 easy tips! Join over 20,000 fellow police wives who are learning to rock it and feel supported with our help each week! Once a week I will provide you with even more ways to feel encouraged and supported for your law enforcement wife journey with my newsletter.
Read my PRIVACY POLICY here.