Any chance to create an easy DIY project, I am game! Last year I made these thin blue line ornaments but wanted to create something a little different this year. So why not go for 3 new ideas in one blog post?
I love creating ornaments especially since my kids aren't bringing any home from school this year now that they are virtual. So below are tutorials for two thin blue line ornaments and one easy gift idea!
Let's start with the two ornaments!
How to Make Thin Blue Line Scrap Ribbon Ornaments:
First, let's gather your materials. Here is what you need:
-Sticks from your yard (free!) or you could use small dowel rods
-Scissors
Now let's get started!
The first step is to gather sticks from around your yard. I sent my kids searching and I snapped them to make them about the same size. I snapped them to be anywhere from 5-7 inches long. Since this is a DIY project, I didn't want my ribbon ornaments to look exactly the same so I was okay if the ornaments were uneven in size.
Next, you will want to cut your strips of ribbon (or gather scraps of ribbon that you already have). The size of your ribbon strips will depend on the length of your stick.
I began by cutting smaller strips for the ribbon closer to the top of the "tree" and cut slightly larger strips of ribbon for closer to the bottom of the "tree." Using different length ribbon strips will help create the shape of a Christmas tree.
I placed a few black ribbon strips near the top and bottom, then various blue ribbon strips near the middle to create a thin blue line tree.
I liked using various colors of blue and black ribbon to give it a homemade look.
Gently tie your ribbon strips going down your stick. I tied them loosely but not so loose that they would come untied. I did trim each of the ribbon pieces slightly to give it more shape.
Next, cut a small piece of twine that you can loop to make an ornament hook. Hot glue the twine to the stick on either end to make a secure loop.
And that's it! Pretty easy, huh?
How to Make Thin Blue Line State Ornaments:
These are incredibly easy! I loved seeing state ornaments on Pinterest so I figured why not make a thin blue line version?
Here is what you need:
Wooden State Ornaments- here are a few examples off Amazon:
Colored fine tip paint markers– this is what I used for the thin blue line.
Fine tip paint markers to add any writing you may want- this is another option off Amazon. I like these for writing as they are a bit thinner.
Pretty much the easiest craft ever! Here's what you do:
-Be sure you have bought/ordered wooden ornaments for easy painting.
-Paint your ornament as you wish. I painted the entire ornament black.
-Then once dry, use a fine tip paint marker to draw on a blue line.
-You can leave it a plain thin blue line, paint a heart on it, add a badge number, the ideas are endless.
How cute is this? And it takes no time at all!
You can use them to decorate your own tree or pass them out as gifts or use a gift tags.
How to Make DIY Thin Blue Line Letters:
This craft offers endless ideas, is easy and perfect for any person that is not that big into crafting.
We used these letters for a picture collage to spell "DAD" to surprise my husband but you could spell out anything!
Supplies needed:
12 Inch wooden letters of your choice. Here is an example off Amazon or you can easily find these at your local craft store like Michael's.
Paintbrushes
To paint:
I found it easiest to paint the blue line down the center of each letter first. Once dry, I painted the remainder of each letter black. So easy!
Then we used the letters to surprise my husband with a picture collage featuring each of our children.
But you could use these letters to spell out anything like:
-gender reveal
-family photos
-one letter for the beginning of your last name like "S" or "D"
-in a man cave or thin blue line area in your home
FREE Police Wife Guide- Top 10 Ways to Rock Police Wife Life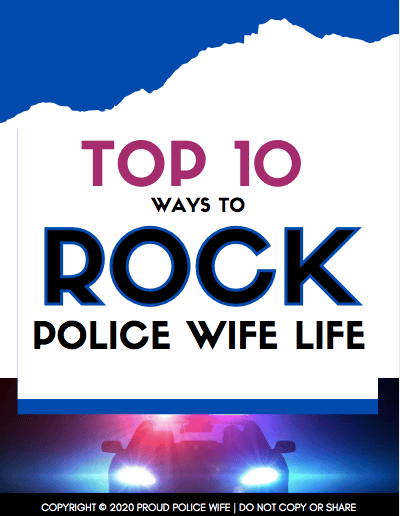 Learn to rock police wife life with these 10 easy tips! Join over 20,000 fellow police wives who are learning to rock it and feel supported with our help each week! Once a week I will provide you with even more ways to feel encouraged and supported for your law enforcement wife journey with my newsletter.
Read my PRIVACY POLICY here.