Disclaimer: At the time of publication of this post, the websites listed in this article expressed support or discounts to law enforcement/first responders on their websites. We are not responsible if their views, discounts or website wording changes.
There is no better time than now to compile a list of brands and companies that show support for law enforcement.
Also, be sure to check back often as we add and update this post when we hear of more law enforcement supportive companies.
Law enforcement families love supporting brands and businesses that support us and many of you have asked for a list of companies that have made their support known for law enforcement. So here they are:
Businesses/Companies that Support Law Enforcement:
Maker of original thin blue line flag! Use code PROUD15 for 15% off your purchase anytime!
This is my FAVORITE LEOW OWNED apparel company! They even have blankets, accessories, tumblers and more! Use code REBECCA for 15% off all the time.
This is a company I trust and use myself. Owned by a former police officer, this company takes your personal information off the internet. You can check out more here.
Oakley & Oakley Standard Issue
Without a doubt, this company makes the BEST vest spray for bulletproof vests, boots, gear and K9s!
Born Primitive Fitness Apparel
You can also check out sites like GovX that share brands that support law enforcement and offer discounts.
FREE Police Wife Guide- Top 10 Ways to Rock Police Wife Life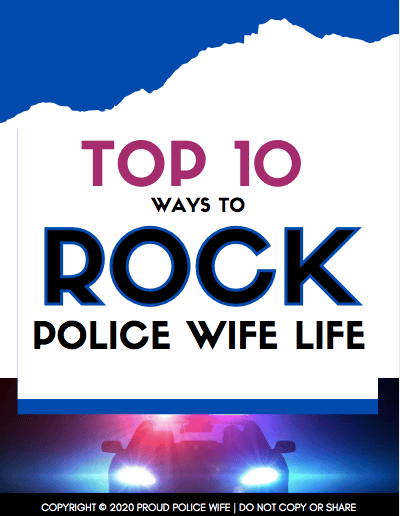 Learn to rock police wife life with these 10 easy tips! Join over 20,000 fellow police wives who are learning to rock it and feel supported with our help each week! Once a week I will provide you with even more ways to feel encouraged and supported for your law enforcement wife journey with my newsletter.
Read my PRIVACY POLICY here.