Children of law enforcement families face a unique set of challenges and experiences that many other kids may not understand.
Because of that, my daughter was brave enough to come on to today's episode and allow me to ask her some questions about what her experience is like. She wanted to share in hopes of helping just one fellow or future child of law enforcement.
While most of her experience is a positive one, I'll be honest and say this was a harder episode for us to get through than we both realized. One question left us both in tears and out of respect to her, I did not include it in today's episode.
This episode is Q&A style and goes by quickly so I encourage you to listen. This is a great episode for your own law enforcement child to listen to so they don't feel alone or if you plan to have children and just want some honest insight.
We discuss what she loves about her father's job in law enforcement, what it is like when he misses holidays or special events, when he is called out, and what advice she gives to another child listening who may have a parent in law enforcement.
Like this episode? Be sure to subscribe to the Proud Police Wife Podcast and leave a review.
Want to stay in touch? Be sure to follow me on Instagram to watch my funny and encouraging reels and check out my IG stories for more behind the scenes.
FREE Police Wife Guide- Top 10 Ways to Rock Police Wife Life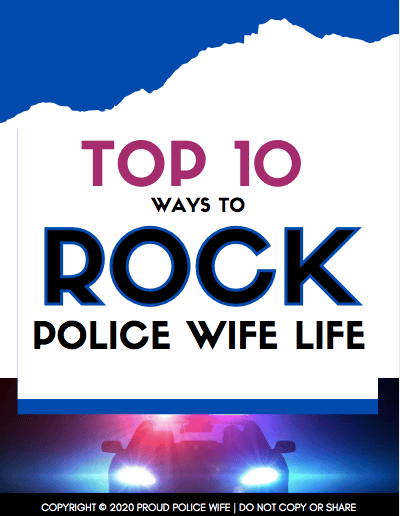 Learn to rock police wife life with these 10 easy tips! Join over 20,000 fellow police wives who are learning to rock it and feel supported with our help each week! Once a week I will provide you with even more ways to feel encouraged and supported for your law enforcement wife journey with my newsletter.
Read my PRIVACY POLICY here.