Telecommunicators or dispatchers are truly the unsung heroes of our nation. Telecommunicators may be behind the scenes but they are the calm to the crazy of our world.
They are one of the first to talk to victims or those injured, they keep first responders like police or fire informed, all while handling multiple calls at one time with calm in their voice.
Honestly, I could not do it! I applaud all of the 9-1-1 dispatchers for their amazing work because they are the GLUE that holds emergencies together.
You can applaud them, too!
April 9-15th, 2023 is National Public Safety Telecommunicators Week!
So how can you show support during National Telecommunicator's Week?
-Say "thank you"
-Buy them a cup of coffee
-Wear GOLD in support of the Thin GOLD Line
-Chip in with your squad and buy them lunch/dinner
-Write them a thank you card
–Grab this beautiful challenge coin for The "First" First Responders
Need more ideas?
With my husband being in law enforcement, it is important to me that we show appreciation for the dispatchers at his department. They effectively articulate calls to my husband, they listen and hear when no one else can. I support their job and how they work to keep my husband safe at his job, as well.
They walk the Thin GOLD Line and we support them!!
FREE Police Wife Guide- Top 10 Ways to Rock Police Wife Life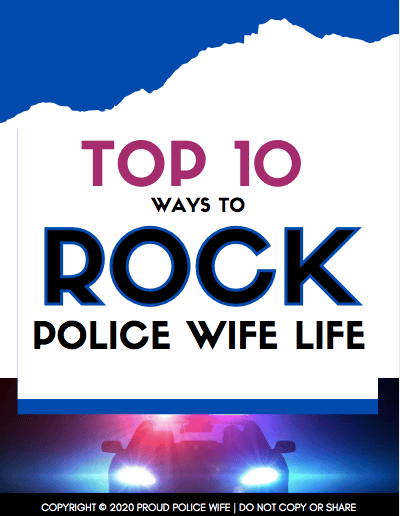 Learn to rock police wife life with these 10 easy tips! Join over 20,000 fellow police wives who are learning to rock it and feel supported with our help each week! Once a week I will provide you with even more ways to feel encouraged and supported for your law enforcement wife journey with my newsletter.
Read my PRIVACY POLICY here.