Post written by: an anonymous follower and fellow police wife.
This idea of Black vs. Blue is something I never thought I would feel the need to address. But before I get into in all that, let me tell you a bit about me.
I am a 32-year-old successful Hispanic female who was born in Colombia and adopted at 7 weeks old. I am also married to an incredible black man who has a career in law enforcement.
Growing up, my parents always promoted my Colombian background as much as they could. But before turning 18 and going to college, I had only ever had a few Asian friends, 1 Hispanic friend, about 3 black friends…and it is incredibly sad, the fault of NO ONE, but still incredibly sad.
I went to college, majoring in Criminal Justice, in 2007. I was awarded a 4-year tuition paid Board of Governors scholarship which helped me to get into the school I wanted to go to. There, I was finally making friends and experiencing cultures I had never been exposed to as a kid. Two of my roommates were black, and I just loved them both to pieces. I dated guys of different races, and spent time with friends who I never would have met in any of the areas I grew up in.
I also have a brother, who is adopted from South America and is a police officer. He is seven years older than I am and is my number one hero in my life. When I had my first seizure at 10, he was there to protect me and keep me safe. From that moment on, I wanted to be just like him so I majored in Criminal Justice.
But why is any of this relevant? For you to fully understand what I am about to say about POC (People of Color) vs Blue, you need to understand me and where I come from.
In 2011, I graduated from college with a B.A. in Criminal Justice…but no job. Instead, I was working part-time for a large company that I loved so I moved to the Midwest with dreams of someday working at their corporate office.
Within six months of moving to the area, I met my amazing husband D. He is an Illinois State trooper and has been for 14 years now. He is also a strong, intelligent, caring, empathetic, black man. One of the most inspiring things about D, to me, is that he grew up on the southside of Chicago. If you know anything about the southside, you know how dangerous it can be and how it has a reputation for being a rough area.
While D was growing up, he had two choices. He had the choice to either go down the wrong path or to go to college and really make something of himself. He chose college. D went off to college, became a track star, graduated with a degree, and ended up joining the state police.
Now that you know a little bit about me, as a Hispanic woman, married to a black police officer, I hope it brings light to my perspective in regards to "Black vs. Blue".
Black vs. Blue:
I have been having a really hard time lately feeling torn between feeling like I have to choose law enforcement or people of color.
I am probably one of the proudest police wives I know, but as a person of color I fully and strongly acknowledge that systemic racism is a huge problem in the United States today. I fully acknowledge that there are things in law enforcement that need to change. Law enforcement and people of color need to work together to develop plans of action for how we can come together and compromise to move forward with plans that keep our officers safe, as well as people of color safe.
It is okay to support people of color, to acknowledge systemic racism, and to also want changes in law enforcement while still supporting officers who risk their lives every day to keep their communities safe. It is 100% possible to do all those things all at once.
The problem for me is feeling like I must choose a side: a Black vs. Blue side and I refuse. It is scary, and I may lose friends, but I do not care. I will not choose a side.
My husband means everything to me. He is my best friend, my rock. He is a father, he is son, he is a best friend, he is a co-worker. He is also a police officer, but he is also a black man.
When the uniform is on, he is seen as a person of authority and he gets the respect that he deserves as a police officer, most of the time. When the uniform is on, he is seen as an officer first, black man second. But when that uniform comes off, he is only a black man.
So we have this unique situation that we're dealing with in our family, in our life, when the uniform comes off and we go outside of this house there is a chance that he may, or I may as a Hispanic woman, encounter some type of discrimination or racism because we are only seen by the color of our skin. That is the reality of what we are living.
I am having a hard time with people in the law enforcement community who cannot seem to wrap their head around the fact that there are members of the law enforcement community who support the black lives matter MOVEMENT. As a police wife and a woman of color, I fully support black lives matter as a MOVEMENT.
As a police wife of color, I absolutely do not support the black lives matter ORGANIZATION.
There absolutely is a difference between the movement and the organization.
It is important for members of the law enforcement community to understand that when we talk about the black lives matter movement vs. the black lives matter organization these are two very very vastly different things.
I feel like this is where the message is getting lost.
Listen, I have all the feelings (fear, worry, etc) when I see our officers out there on the street getting attacked. They're having skateboards thrown at them, they're having rocks thrown at them, they're having bags of urine thrown at them, they're having all these horrible things happen to them by these people, these instigators, who are basically hijacking peaceful protests and taking over from the people who really want change, who don't want violence, who are trying to get people to listen to the fact that systemic racism and things need to change. I understand these things!
I understand why there are members of the law enforcement community who cannot seem to separate the two. But we need to rise above and acknowledge the fact that these are two hugely different things that we are talking about here. There has been a system churning for centuries that have put people of color at a disadvantage in this country. It is irresponsible to say otherwise, as time and time again, statistics, history, and true events have proven these facts. Yes, it has gotten better than it used to be, but we are still not where we need to be.
That is why as a police wife of color I wish I didn't have the pressure from anyone, whether it's people of color or the law enforcement community, I wish I didn't have or feel the pressure to choose a side because I am for both sides.
Both sides are equally as important. I will use my husband as an example again; when my husband wears his uniform, I want him to be safe, I want him to be protected, I want him to come home to me after every shift. When my husband is out of his uniform and he is just walking around town as a black man I want him to be safe. I want him to come home to me, I want him to be protected and not have to worry about what could happen to him out on the street because he is a black man. Both sides need to be heard. Both sides need to work together and compromise to find a common ground.
While I acknowledge that there is a narrative out there that says that it is Black vs. Blue, that is not going to get us anywhere if we have versus anything.
I am hurting as a police wife for my law enforcement community, but I am equally hurting for people of color because we are further dividing ourselves every single day and it does not have to be that way! It does not.
We as a human race, we as Americans, we as neighbors, we as friends, we are strangers, need to do better because we cannot continue down this incredibly destructive path that we are going on. You do not have to choose a side; you can be for both. But for this to happen our blinders must come off and we must be ready to listen, learn, and understand where each side is coming from. For the record, that goes for both sides – blue and black.
My friends, my law enforcement family, my fellow people of color, I plead and beg with you all: WE NEED TO DO BETTER. Our future depends on it.
FREE Police Wife Guide- Top 10 Ways to Rock Police Wife Life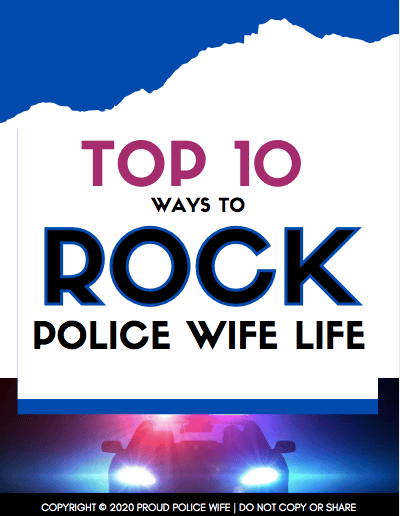 Learn to rock police wife life with these 10 easy tips! Join over 20,000 fellow police wives who are learning to rock it and feel supported with our help each week! Once a week I will provide you with even more ways to feel encouraged and supported for your law enforcement wife journey with my newsletter.
Read my PRIVACY POLICY here.