Chances are there is nothing you need, but shopping online deals can be great if you are already planning on purchasing gifts anyway. 
First, I highlight some awesome police and police wife owned small shops that are offering great sales this holiday season. Plus, a few shops that are just huge supporters of law enforcement.
Then, I found a few select items that are police related products on sale from Amazon.
I will continue to update this post from now (until the end of Cyber Monday with new deals). So keep checking back!
Without further ado, the BEST Black Friday & Cyber Monday deals for police families:
Proud Police Wife 90 Devotions for Women Behind the Badge- is ON SALE on AMAZON. BEST PRICE EVER LISTED! This is my newest devotional for police wives and girlfriends.
The Shieldbox: this is the ultimate subscription box for any law enforcement officer. They have an amazing Holiday Box that my officer loves! Plus, they have a stocking stuffer pack for only $35!
Here is one the previous boxes we received:
Arrest My Vest: They are offering HUGE black friday deals on their amazing spray for gear and bulletproof vests. Midnight scent is our favorite.
USE MY CODE THANKYOU (all one word) TO TAKE AN EXTRA 15% OFF.
Officer Privacy– they have NEVER had a sale before but for this Black Friday they are!! You can get 5 months of free monitoring (a $99.95 value) after the initial sign up. SIGN UP HERE
Orp Socks– these are THE BEST tactical socks for first responders. They wash well, stay up and are super comfortable. Code PROUDPWIFE20 saves you 20% (my code is usually for 15% off so this is the best deal they've ever given me).
Milspin: Milspin offers beautiful thin blue line glock plates, as well as, steel cutouts. Their deals will be on their website.
Blue Monarch Co– beautiful handmade jewelry from a fellow police wife/officer. She is offering 40% off anything on her website this weekend only. Use code: BLACKFRIDAY
Proud Police Wife Shop– Use code BFSALE to receive 50% off most of the DIGITAL items in our shop from now until Cyber Monday (end of day). This includes our Police Wife Resource Binder, Holidays with a Hero and more!
LA Police Gear– they have countdown deals for excellent prices listed on their website for many items. You can visit their site here and scroll down to see the countdown deals listed.
Pictures on Gold– this shop offers high quality police and firefighter jewelry like badge necklaces and earrings. They are having a huge Black Friday sale on their site with up to 75% off.

SRVS Gear– Apparel honoring those who serve. For every shirt bought, they give one away to those who serve. 40% off sitewide with code BLACKFRIDAY.
Thin Blue Line USA– 25% off site wide. Use code BLACKFRIDAY
Amazon Deals (law enforcement related):
Hot Logic Mini portable warming oven 
Original Tough Hook Gear Hanger
Portable Oven for Food Warming
Garmin Solar Tactical Watch– over 20,000 reviews!!
OLight Brand Mounted Rechargable Flashlight- my husband owns this one and I sadly paid a lot more than this.
Mini Portable Oven for food warming– perfect for your officer to heat up food from his/her patrol car! This is a fantastic deal!
Blink Outdoor Wireless Cameras
Hearing Protection for Range– my husband said to include these because they are a great deal
Blackout Curtains– this has extra good savings on top of the Black Friday deal!
Sony Noise Cancelling Earbuds– great if your spouse needs to sleep during the day
Rayban Sunglasses– my husband always has his sunglasses for work because he drives so much.
Oakley Sunglasses– another great option.
Garmin Solar Rugged Smartwatch– a must have for any first responder!
Air Purifier– we have one of these going at all times. It really helps to drown out noise when my husband is trying to sleep after a long shift. Bonus, it cleans the air!
Under Armour Graphic Shorts (amazing deal)– my husband loves to wear these to and from work, at the gym, etc.
Deals unrelated to law enforcement:
Coredy Robot Vacuum– this is the one I own and share about in my Instagram stories. This is cheaper than I paid and I love it!
Okay, that's it, folks! Tell me your favs!
If you buy from any of these small shops, be sure to tag us and them on Instagram! Or tell them we sent you!
FREE Police Wife Guide- Top 10 Ways to Rock Police Wife Life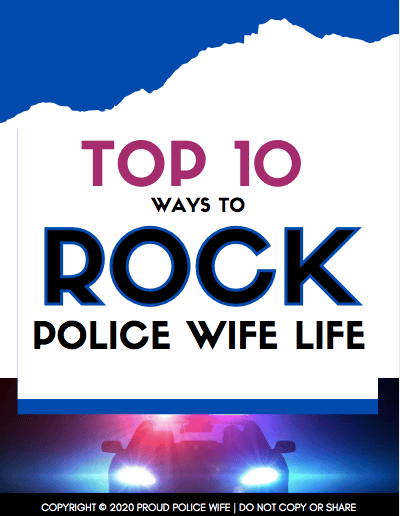 Learn to rock police wife life with these 10 easy tips! Join over 20,000 fellow police wives who are learning to rock it and feel supported with our help each week! Once a week I will provide you with even more ways to feel encouraged and supported for your law enforcement wife journey with my newsletter.
Read my PRIVACY POLICY here.