This is a sponsored post on behalf of The Police Credit Union of California. All opinions are honest and my own.
Law enforcement officers and their families face unique challenges that many don't understand. But when it comes to your finances you should bank with an institution that appreciates your sacrifices and understands the need for extra protection.
You (or the officer in your life) provide care and protection to your community on a daily basis. So why not bank with a company that will provide the same care over your money?
If you live in California and are in law enforcement (or your spouse is) then you are eligible to be a member with The Police Credit Union of California.
Let's go over the exclusive benefits you will receive if you sign up.
Exclusive Banking Benefits offered to Law Enforcement Officers and their families from The Police Credit Union of California:
Debt Counseling and Financial Wellness Planning:
From counseling to help you get out of debt to regular credit checks to helping you plan for the future, The Police Credit Union of California offers assistance by partnering with GreenPath Financial Wellness.
Bottom line, they want to see you succeed and have financial freedom. These are great services to take advantage of as a member.
Scholarships is one of the top questions I get emailed about through the blog. Law enforcement officers are always looking for ways to further their education but the price tag to do so can be hefty.
It can be hard to find scholarships for police but The Police Credit Union of California wants to give back to its members by offering scholarships to those who have academic excellence and contribute to their local communities.
See if you meet their requirements here. (You do have to be a member for at least 6 months before applying).
End of Watch Debt Forgiveness Program:
I know this is a topic we don't always want to think about, but knowing what would happen to your finances in case of an emergency could take a huge burden off your family.
The Police Credit Union of California offers debt forgiveness (based on qualifying loans) to full time sworn California police officers if they should pass. This is a no-cost program offered to members and provides peace of mind to law enforcement officers and their families.
The Police Credit Union understands how expensive it can be to purchase new, much needed safety equipment. Depending on which agency you are with, it is not always provided and that can be a burden.
So The Police Credit Union does offer its members loans with low APR if you need to buy gear for your K9, equipment, safety devices, uniforms and more.
The benefits listed are just some of the ways The Police Credit Union of California offers support and care to its members. They frequently offer webinars and additional ways to help you learn about trusts, finances and programs that they offer.
Ready to sign up and apply for your membership now? GO HERE.
FREE Police Wife Guide- Top 10 Ways to Rock Police Wife Life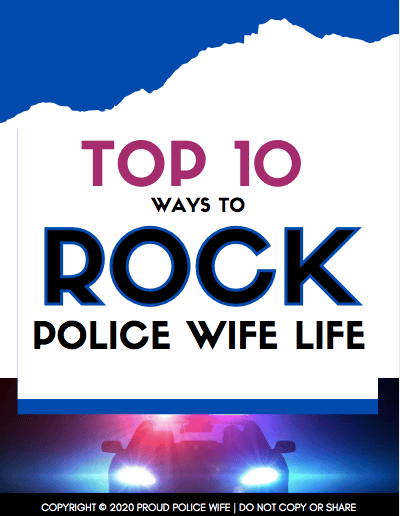 Learn to rock police wife life with these 10 easy tips! Join over 20,000 fellow police wives who are learning to rock it and feel supported with our help each week! Once a week I will provide you with even more ways to feel encouraged and supported for your law enforcement wife journey with my newsletter.
Read my PRIVACY POLICY here.