Okay, let's get down to it. We constantly hear that as police wives we are destined to be solo parents. But is this the truth? Or is this just another scare tactic that people are telling you.
Yes, our spouses work a lot and shift work can make parenting challenging. But does that mean you are going to be a solo parent because your spouse has an opposite shift than you and the rest of the family?
We are going to dive deep on this topic and hear the opinions of fellow police wives. I polled law enforcement wives on different platforms and here is the honest truth regarding solo parenting as police wives.
Are police wives really solo parents?
First, let me start by saying that I truly dislike the term "solo parent". I feel like it paints this picture that my husband does nothing and that is NOT the case. I have even written other blog posts on this topic before but I still have a strong feeling towards the phrase, nonetheless.
So let's answer the question you've been waiting for: are police wives really solo parents?
Short answer: no. (If your spouse does not help at all, please scroll to the bottom for some tips).
Long answer: it can definitely feel that way sometimes and I in no way want to discount those feelings, ever, but in all honesty, I hope you are married to or have a partner that provides his/her fair share of responsibility with your children.
I feel like there is a big difference between actually being a solo parent compared to feeling like one.
Just because we are married to shift workers, does not mean we are automatically single parents. I think a good thing to remember is that not every day is going to be 50/50. Some days you may give 90% in the parenting department while your spouse supports your parenting decisions even while working. Other days, when your spouse is off duty, your spouse may give 75% and you 25%. It is a balance but not one that is always equal.
I polled thousands of police wives on social media and over 90% feel like solo parents. Not all felt that they were physically solo parents but, at times, feel lonely due to schedules, etc.
If you are feeling this way too then please know you are not alone.
The honest truth + some solutions to help you:
It can 100% feel lonely and hard when your spouse is working.
Mama, I feel you on this one. Those feelings are REAL. When you are tired and doing all.the.things, it feels solo for sure. My husband is THE most helpful, involved dad, which means the world to me. But even on my best of days, I can feel solo even though I am truly not.
What I realized though, is that sometimes I needed to step back and not allow myself to make all the decisions. As much as my Type A personality can't stand it, I wait. I wait those long hours to talk to my spouse and share the decision making to 1.) take a load off of myself mentally, 2.) allow my husband to have more control and say and not make him feel like I make all the decisions regarding the kids, and 3.) show our children that we are team and we make big decisions together.
This, in turn, helped me to not feel so lonely and isolated in the parenting spectrum.
It can feel like you have to make the majority of the parenting decisions.
Again, you do all.the.things, right?
Yes, a lot of times I make the decisions especially on day to day small situations. But I have now learned to tell our children that some situations are better left for 'mommy and daddy to discuss together'.
Things like: semi-major behavior problems, school-related issues, play-dates on days when my husband is home, just to name a few.
You can sometimes feel like the "bad" parent.
When your spouse comes home it can feel as if your children want "play" time with your spouse and you have to be the bad guy while your spouse is the good guy (no pun intended). You are left with being the disciplinarian and it can get old.
A few things to think about:
1. Your experiences may change and vary depending on what season of life you are in. In addition, certain shifts/schedules may be more difficult or easier on your parenting as a whole.
For example, some families love the night shift while others enjoy the day shift. Every family and situation is different so it's important to not compare your family/parenting situation to someone else's.
2. It can take a long time to figure out your parenting dynamic with your spouse. Just because you have a baby does not mean you should know exactly how to handle all situations. The biggest piece of advice I have is to communicate. Talk with your spouse, even if they are not physically present, allow them into decision making and model this for your children.
Also, our spouses are not mind readers. If you need help, then you NEED to ask for it. This took me SO long to realize and admit, but once I started telling my husband I needed help with X,Y, and Z with the kids, he was willing and able to do it. I, for some reason, thought that my husband should KNOW what I needed to be done, but no, he did not always. So I had to put my pride aside and find a nice, calm way to ask him.
If you are truly having trouble with your spouse regarding parenting, around the home, etc, be sure to hold your spouse accountable. Just because they have a job that requires a lot of energy does not mean they can not help at home. Start by asking for what you need.
3. Does it mean that you will experience all of these scenarios as a parent? Of course not. These are just situations that many wives that I polled have experienced and I want to be as transparent as possible.
4. The majority of us have spouses that are helpful, responsible, loving and do their fair share. It can just be hard for us to remember this when we are in the thick of it all. But as a mama of three little ones myself, I can relate to this and know we all need this reminder.
If you still have questions or need help, feel free to reach out to me on Instagram. I know you can get through this and I will be your biggest cheerleader!
FREE Police Wife Guide- Top 10 Ways to Rock Police Wife Life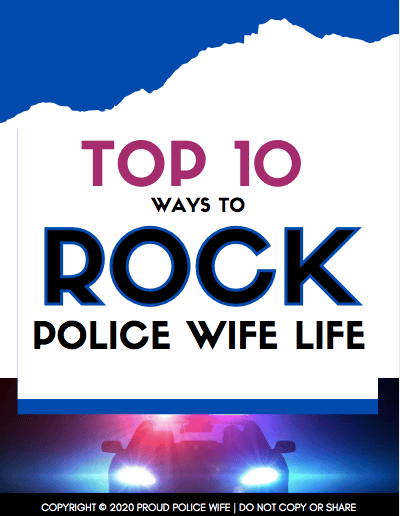 Learn to rock police wife life with these 10 easy tips! Join over 20,000 fellow police wives who are learning to rock it and feel supported with our help each week! Once a week I will provide you with even more ways to feel encouraged and supported for your law enforcement wife journey with my newsletter.
Read my PRIVACY POLICY here.