This is a sponsored post, but all opinions and reviews are my own.
Besides being a police wife, I am also a mother of three little ones and a part-time reading teacher. So when I read I'm Afraid Your Teddy is in Trouble Today by Jancee Dunn, it combined my love for picture books and law enforcement.
I am always looking for books that involve law enforcement to read to my children because police related books are few and far between. To my children, their father is their hero for the job that he does. So they naturally gravitate to books that involve law enforcement. They feel closer and more connected to him, even if they are reading books about officer's solving teddy bear crimes. 😉 My 3 year old even asked, "has daddy ever helped a bad teddy bear before?" So unbelievably cute!
My husband and I also feel it is important to present law enforcement in a helpful and safe way to our children. Having law enforcement solve the mystery of this mischievous stuffed animal party is a perfect way to paint police in a positive, safe light.
I'm Afraid Your Teddy is in Trouble Today captured my children's attention right away.  The cover has bold, strong colors that immediately show the naughty adventures from the story. My children had so much excitement about the text just by looking at the front cover. The illustrator, Scott Nash, did a wonderful job making this story come to life with such vivid, detailed illustrations. We spent several minutes on each page examining the in-depth illustrations.
I'm Afraid Your Teddy is in Trouble Today, published by Candlewick Press, is a light-hearted, vibrant tale of a naughty (but super cute) teddy bear. While the teddy's owners were at school, he invited his friends over for a day of adventurous freedom. The story is told by two police officers who received several calls about a loud party at a teddy bear's home. These officers walk us through the very silly & rambunctious events that occurred that day. The officer's worked hard to investigate who the party ringleader was- the very disobedient teddy bear.
The officer's walk from room to room, showing all the mischief these animals got in to. From talking stuffed animals, to fruit and sprinkle pancakes, to an appearance from the fire department and a chocolate sauce bath, these animals sure had a wild & busy day! My daughters' favorite part was, without a doubt, the elephant wearing pink frilly underwear on his head! Anything that involves underwear is quite comical to children! Who knew?
While my daughters' loved the plot of this story, they especially loved the bright, very-descriptive illustrations. They could not stop laughing at the drawings drawn by the stuffed animals on the walls. They would spend so much time looking at all of the pictures that I would have to say, "Okay, let's keep reading" but they would find something new on each page to point out.
My daughter mentioned that this book reminded her of how her daddy hands out stuffed animals from his patrol car while on duty to children he sees. She thought this would be a great read for police officers, too. 🙂 Then my youngest daughter added that maybe this is how police officers get all those stuffed animals to hand out! At the end of the book, you see the officers taking all the animals home safely, so her connection made perfect sense!
My recommendation
I highly recommend this picture book to any family looking for a friendly, yet silly, read. If you have children that love or are intrigued by law enforcement then this is definitely the book for them! Jancee Dunn showed just how welcoming, pleasant, and fun police officers can be by telling the story from the officer's point of view. I'm Afraid Your Teddy is in Trouble Today is definitely a new favorite in our home.
This picture book is best suited for children ages 3-7.
If you are looking for a vibrant, engaging read that involves law enforcement then be sure to check out I'm Afraid Your Teddy is in Trouble Today. With the holidays right around the corner, this book would be a great addition to a child's home library!
FREE Police Wife Guide- Top 10 Ways to Rock Police Wife Life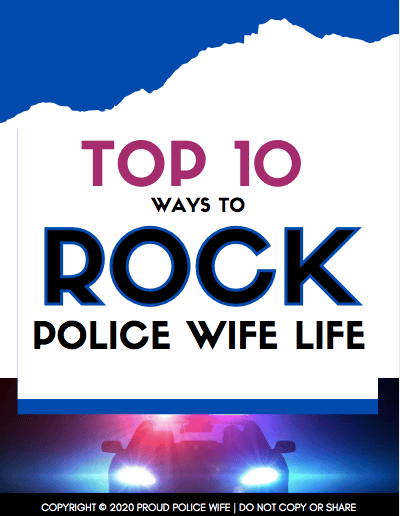 Learn to rock police wife life with these 10 easy tips! Join over 20,000 fellow police wives who are learning to rock it and feel supported with our help each week! Once a week I will provide you with even more ways to feel encouraged and supported for your law enforcement wife journey with my newsletter.
Read my PRIVACY POLICY here.