This is a sponsored/affiliate post. Proud Police Wife received a pair of Printed Kicks in exchange for an honest review.
I love being able to show my support for law enforcement any way that I can! Whether it is in a big or small way, I know my support is always appreciated. Support obviously comes from the heart, but I am a huge fan of thin blue line and law enforcement wife apparel. I don't always wear it out and about for all to see, but in smaller settings where I feel comfortable, I will proudly show off my thin blue line purchases.
Recently, I saw some of my fellow police wives wearing the Thin Blue Line sneaker from Printed Kicks . I thought they were adorable! The shoes are extremely cute and it made me eager to check them out, too. But because I had not purchased from Printed Kicks before, I was unsure of the quality of the shoe.
So the big question: are they comfortable?
The answer I am sure you have been waiting for: YES! My pair of thin blue line Printed Kicks are extremely comfortable. They compare to any other sneaker that I have and I felt like I was wearing my favorite pair of fuzzy socks all day. The first day I got my pair of tennis shoes, I wore them outside for about 3 hours. I did yard work, ran around and played with my 3 kids and took about a one mile walk around my neighborhood all while wearing my thin blue line Printed Kicks.
I was comfortable the entire 3 hours! I absolutely need to wear comfortable shoes and can not spend an arm and a leg on new shoes frequently.
I waited a good two weeks before doing this review because I wanted to wear my sneakers more than one time. I wanted to make sure that Printed Kicks were durable, great quality and would last. I have worn my Printed Kicks 12 days out of the 14 days I have had them. They are still just as comfortable and very durable. I have no complaints!
I should mention, I am rather rough with my shoes. I am running after little ones all day long, so my shoes get a lot of use! Printed Kicks stood up to the test.
What else you need to know
If you are interested in checking them out, you can visit the Printed Kicks site. You can also check out all the other great reviews for the thin blue line sneaker! (They have 5 stars)!
Tired of struggling with night shift?
You CAN find balance while your officer works night shift! This handy NIGHT SHIFT ACTIVITY LIST & TRACKER will help prepare you for any long nights ahead. Join over 2,000 fellow police wives and download your copy today!
The sneakers are comparable in price to other tennis shoe brands. Right now they are having a special and the pair of Thin Blue Line sneakers are $59.99. I am not sure how long this sale is going on, so I would definitely check them out now before it is too late.
It is important to note, that for me, Printed Kicks ran true to size. I ordered my usual shoe size and they fit perfectly!
You can also choose the color sole you prefer: white or black. I prefer the white sole but I was a little nervous, because, well, it is white! By day 5 they were showing some dirt and I actually took a wet paper towel and cleaned up the sole- they looked as good as new. So I am even happier that they were easy to clean; this means they will last me a little longer.
The only negative I had was that shipping takes a little longer than what I am used to. Not horrible- it was about a week. But I am spoiled and I am used to Amazon Prime 2 day shipping, what can I say? 😉
Overall, I highly recommend the Thin Blue Line shoe from Printed Kicks. They exceeded my expectations! You can order yours here. If the price tag is too steep for you, then this is a great gift recommendation. I know my husband is always looking for different gift ideas for me. 😉
Thin Blue Line version not for you?
No problem. Printed Kicks has a ton of sneaker designs, so you can go for comfort and skip the design.
They also sell leggings and capris with the thin blue line flag, sugar skulls, breast cancer awareness, and more.
If you are looking for more apparel that I recommend, then check that out here.
FREE Police Wife Guide- Top 10 Ways to Rock Police Wife Life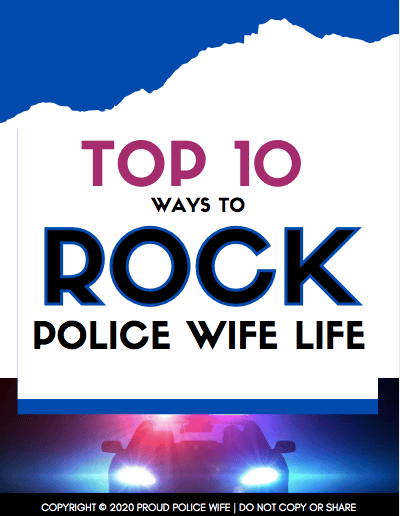 Learn to rock police wife life with these 10 easy tips! Join over 20,000 fellow police wives who are learning to rock it and feel supported with our help each week! Once a week I will provide you with even more ways to feel encouraged and supported for your law enforcement wife journey with my newsletter.
Read my PRIVACY POLICY here.