It is no doubt that the news and media are flooding your feeds regarding COVID-19. Schools are closed, cancellations are happening and many are working remotely.
However, a lot of us forget about the countless number of dedicated men and women continuing to serve our communities despite COVID-19.
Hospital workers, EMTs, fire, police, just to name a few, continue to work around the clock and just because COVID-19 is here, does not mean their work stops. In fact, for many shift workers, their work and caseloads are increasing.
This is a stressful time, but even more so for shift workers dealing with long hours on the job, intense situations and the worry/fear about being away from their loved ones during such an unprecedented time.
That is why it is imperative that we provide resources for shift workers from reliable sources.
Tips & resources for shift workers during COVID-19:
Only listen to credible sources/reliable information
This is so important. As a first responder or shift worker, you need to pay the most attention to information coming from your supervisors, command staff or place of employment. They will be issuing protocols for you to follow and will provide you with the most up-to-date information for your safety and the safety of your community. Avoid rumors and read/listen for official statements or emails from credible sources.
Practice good hygiene
This list is in no particular order, but this tip is obviously of the utmost importance, as well. For shift workers, especially workers in close contact with the public, you will need to take EXTRA precautions to ensure good hygiene and safe practices to help stop the spread of COVID-19.
RELATED: HOW LAW ENFORCEMENT OFFICERS CAN BE GERM-CAUTIOUS
This goes beyond proper hand-washing techniques and includes proper eyewear, disposable gloves and limiting close contact.
If you are a healthcare worker, check out the CDC's precautions here.
The CDC provides these resources for first responders and law enforcement.
Always take care of yourself, first.
Mentally and physically. This includes making sure you have all the necessary supplies you may need to protect yourself. You can not continue (long-term) to give care to others or serve your community if you are not looking after your own health, as well.
Stay hydrated
This seems like a given, I know, but when we are working and immersed in chaos, we often forget to take in the necessary amount of water. Not only does this keep you hydrated and help you to function better, but it helps rid of any unnecessary toxins in your body.
Trying something like LIQUID IV can help with your hydration or be sure to have several water bottles handy.
Get adequate sleep
Please, I can NOT stress this enough. Police, fire, EMS, nurses, doctors, we need you right now. And we need you to be well-rested so you can perform your duties to the best of your ability.
This is no doubt a stressful time for all involved, so please make time to unwind and relax.
In your downtime, put away phones, turn off the news, avoid social media. Get a mental break and allow your body to de-stress. Do things that help you relax like taking a walk outside, taking a hot shower or bath, watching a funny movie or try a relaxation app like CALM to help you wind-down.
The CDC gives further tips on managing stress and mental health here.
If you need to talk to someone during this stressful time, I HIGHLY recommend calling Under the Shield Foundation as your call is anonymous and confidential. They provide stress coaching over the phone or in-person, depending on your location.
Grab the All-in-One Police Wife Reference Guide
Grab this handy reference guide for all things police wife! From important dates & events to resources for law enforcement- all in one place! Subscribing also gets you access to my weekly newsletter full of tips and encouragement.
Read my PRIVACY POLICY here.
Have back-up plans in place.
When life is as busy as it is right now, this can fall to the wayside, but it shouldn't. As the shift worker yourself, be sure to communicate with your immediate family in case changes in plans occur. Have these discussions now and be proactive, not reactive hoping things go as planned.
Things to think about when talking:
-It is possible that you will be asked/told to stay at work for several shifts?
-If you happen to become infected, what would be your plan of action? Where would you stay? What would your family do?
As the spouse or family member of a shift worker, be sure to know your back-up plans well, go over them often and be comfortable with them.
If you don't have an emergency binder as a first responder family, then now is an excellent time to grab one and it will be sent right to your email. Use code: TOILETPAPER for 50% off.
Use the Marco Polo app to stay connected to family and friends.
This is a great resource for shift workers! It is also one of my family's most-used apps on our phones. Marco Polo allows you to communicate via video (sorta like video walkie-talkies). You send a video to a family member or friend then they can view it when they are able. Then, they can send you one back at their convenience.
TIP: If you have children that miss their parent that may be working, have your spouse pre-record some Marco Polo videos and share them with your children when they are sad or missing their loved one. They could record an encouraging message, read a bedtime story and more!
Plan ahead and pack several, easy-to-eat meals for work or home
Since my husband is a police officer, I know that when he walks out that door, there is a chance that he may not come home on time and he may work well-past his shift. During such uncertain times right now, I also know he may have to stay at work for multiple shifts.
With some restaurants and bars closed or to avoid close contact with food, the best way to ensure that shift workers have meals is to pack them.
I recommend packing 4-5 meals individually to take to work, just to be safe. These should be meals that don't need to be reheated and can withstand long hours in a cooler or emergency service vehicle.
When you come home after a long shift, one of the last things you will want to do is make a nutritious meal (totally understandable). I would recommend meal prep/freezer cooking so you can plan ahead and batch cook as many meals as possible.
One of my favorite resources for meal prep and freezer cooking is Once a Month Meals. Right now, they are providing this FREE resource that outlines 20 meals that you can make in 1 hour for $100. Pretty amazing, right? Grab their FREE resource guide here.
We will get through this. One day at a time; we will get past this. Thank you to all the dedicated shift workers going above and beyond for our country right now; we appreciate you!
FREE Police Wife Guide- Top 10 Ways to Rock Police Wife Life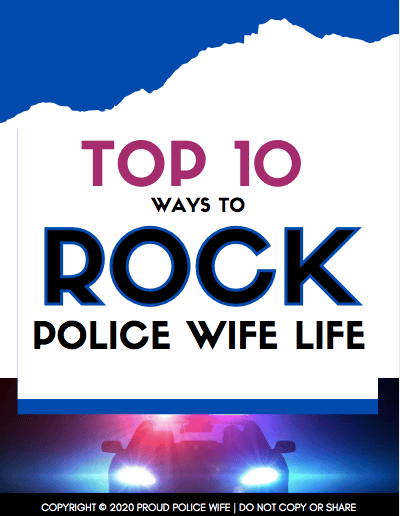 Learn to rock police wife life with these 10 easy tips! Join over 20,000 fellow police wives who are learning to rock it and feel supported with our help each week! Once a week I will provide you with even more ways to feel encouraged and supported for your law enforcement wife journey with my newsletter.
Read my PRIVACY POLICY here.