As police spouses, we often get overlooked but the truth is we are the heroes that hold it all together at home. It is important that we are recognized and appreciated, too. We walk the thin blue line right alongside our spouses and I can't say it is always easy!
There are never expectations that we should have help, but gosh, if someone offers, it is so appreciated! And by all means ladies, if someone offers to help you, TAKE IT! You deserve it!
But a little thank you for what you do can also go a long way. Honestly, it is the ONE thing that can change my day completely around. Whether it's a stranger, a friend, neighbor or even my officer giving me recognition for pulling it all together during one exhausting day.
So if you want to help out a police spouse you know, here are some things she will definitely appreciate:
1.Bring a meal for a police wife, girlfriend or fiance
2.Lend a listening ear- talking and letting her vent is priceless!
3. Babysit their children- this is at no cost, of course
4.Donate to a police wife organization like National Police Wives Association or Police Wives of America in their name
5. Offer to bring a coffee or go to a coffee date together
6.Deliver baked goods
7.Supply a quick craft for their children to keep them occupied for a short time- this is golden!!
8.Say thank you and acknowledge their strength
9.Write an appreciative note or card
As a police wife, I learned to be super independent. So it took me some time to put my guard down and learn to accept help and gratitude. When I do, they make for some of my best days! Be a police wives support system today; I know she will be blown away!
FREE Police Wife Guide- Top 10 Ways to Rock Police Wife Life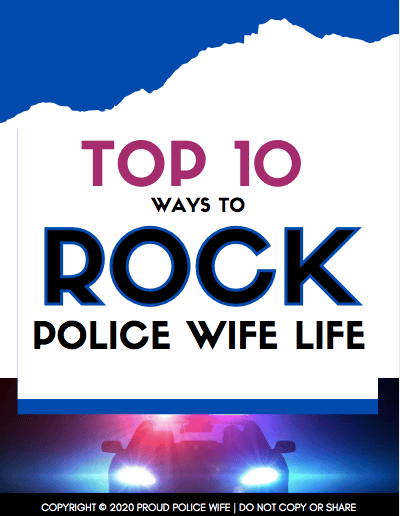 Learn to rock police wife life with these 10 easy tips! Join over 20,000 fellow police wives who are learning to rock it and feel supported with our help each week! Once a week I will provide you with even more ways to feel encouraged and supported for your law enforcement wife journey with my newsletter.
Read my PRIVACY POLICY here.