This is a sponsored guest post by Sunshyne Gray, a fellow police wife and licensed counselor and life coach.
Being a law-enforcement wife for 23 years has undoubtedly presented challenges that I had no idea would exist in marriage. My friends didn't seem to understand or experience some of the hard places I was finding in my police marriage. But police wife struggles are real and they are hard. I wish someone would have pulled me aside and explained why a police marriage endures challenges that non-police marriages don't encounter. Understanding my husband's experience would've helped me be more compassionate and understanding… I think. 
Did I mention I'm also a licensed therapist in Southern California? One would think I would have caught onto the core of police wife struggles a little quicker, but I was too busy hating all the struggles…not the most productive approach.
In this article, I am going to pull you aside and tell you some things I wish someone had told me. I want you to have the best tips to overcome police wife struggles that my training and personal experience has taught me over the years. Navigating a relationship as significant as marriage can be tricky. The desire to love well, offer grace, be your authentic self and speak truth takes a certain amount of finesse. Add in cumulative trauma while doing life, complicates things a bit. So let's start with describing some of what our spouses face on the daily.
A Day in the Life of an Officer
Police officers are racing into situations that most people are racing out of. When they arrive on a scene, something is wrong; they don't get called when things are going well. Police deal with violence, domestic disputes, angry neighbors, death, shootings, stabbings, missing persons and many other heart wrenching and disturbing calls for help. They see things that can't be unseen or easily forgotten. They get a front row seat to mayhem.
It is impossible to work with this kind of job, immersed in suffering and loss daily, without experiencing the effects. Remember the game Tetris? You would have to line up a row of shapes so the line would disappear. If you didn't stay on top of the shapes, the lines would build up until no more shapes could be added. Police officers deal with trauma on a regular basis, which results in cumulative trauma.
What is Cumulative Trauma?
Well, it looks a little like apathy – I call it the, "I don't cares". You ask a question and the response is, "I don't care". It also looks like withdrawal from relationships, family and community. Officers may also experience increased anger over small infractions. It's not uncommon to experience anxiety and/or depression. Mood swings, difficulty sleeping and concentrating are also common effects of the job. Many officers turned to substance abuse and other addiction as well as infidelity.
Because these traumas build slowly over time, they are not as obvious. Not to mention, since the effects are more subtle and experienced on an emotional and behavioral level it's also easily missed. Meaning, it's not as obvious as a broken leg. Additionally, seeking help with post traumatic stress is uncommon in police culture.
How Does This Connect to Police Wife Struggles?
Watching someone you love experience the negative effects of the job can be heart wrenching. Like me, you probably hate seeing your people in pain or missing out on the biggest blessings in life: relationships and family. You may also be experiencing disappointment that marriage and family life looks very different than what you had imagined. Sometimes it can be hard to see the person you married behind the disconnected, irritable spouse you are face-to-face with.

This brings me back to the point made earlier. It takes a certain amount of finesse to navigate police marriage, choosing to love well, show grace and speak the truth in love. In order to have a successful marriage all of these things must exist- whether you are in a police marriage or not. This article is about tips for police wife struggles, so we aren't covering ways law-enforcement officers can work through the trauma and healthy coping skills; but that is a great question and worthy of investing time into working out a plan to deal with the effects of police work.
Let's dive into tips for overcoming police wife struggles…
Seven Tips for Overcoming Police Wife Struggles
1. Communication is Key!
I know, I know – this can be hard if both parties aren't wanting or able to communicate in a healthy way. But too often, relationships self-destruct because of the things not said, rather than the things that are said. Be open and gentle, communicating what you are seeing in your spouse. If you've noticed more withdrawn behavior or irritability – be brave and lovingly share your concerns.
I want to encourage you to check your own heart before approaching your spouse- so often my communication was motivated by frustration rather than genuine concern for my spouse's well-being. This is why the opening of the article points out how your spouse is feeling and what your spouse is experiencing as a result of the work he does. It helps to understand the effects of their work when communicating genuine concern.
2. Don't Personalize Things
When your spouse is gone for long hours and you've been doing life solo- you probably can't wait for your spouse to walk through the front door until… Apathy (I don't care), irritability and withdrawn behavior comes in the door with your spouse. Don't personalize it! His behavior is not about you. It's not about the house, the kids or anything else – but work. In my early years of marriage so many disagreements could have been avoided if I didn't take his moods personally. Don't make it about you- being intentional to not personalize your spouse's mood swings will spare you a lot of unnecessary pain!
3. Be Aware of Negative Thoughts
When we are faced with all the police wife struggles it's easy to give into negative thoughts. Police marriages have challenges that most marriages don't experience. When you are tempted to focus on the challenges, be aware of the thoughts you think. Thoughts are powerful and direct your emotions and actions. It is so important to be self aware and know what you are believing and thinking about a situation. Don't hear something I'm not saying. I'm not saying pretend there aren't challenges. I'm not saying to stuff your feelings down. But I am saying to look at the whole picture. I would be heartbroken if my people only saw my weaknesses and struggles without seeing my strengths and the good things that I bring to the table.
4. Be Prayerful
Bring your police wife struggles to God. Prayer is powerful. Even though God has the power to change everything in a single moment, I don't see Him regularly doing so, but He is moving in our police marriages even when we don't readily see it. Prayer also softens my heart toward my police wife struggles and my marriage when we are in a hard place. Some of the prayer points could be for your spouse's heart to remain soft in the midst of the work he does. Pray for God to heal the effects of police work in your spouse's life. Lift your heart up – praying for wisdom to navigate hard places and conversations. Ask God to help you see your spouse through God's loving and gracious lens. Prayer changes things – let that truth encourage you.
The prayer of a righteous person is powerful and effective. James 5:16b
5. Set Limits
This may be one of the most challenging tips of all the tips I've given, but it is important. I talked earlier about the importance of approaching Police marriage with grace and love. That is how I want my spouse to approach me, but that doesn't mean I should never be held accountable. Remember, love without truth is ineffective and truth without love is a sword.
Instead, speaking the truth in love, we will grow to become in every respect the mature body of him who is the head, that is, Christ. Ephesians 4:16
We are called to speak the truth and love. Let me explain in a few words what boundaries are and are not. When setting a boundary you are making a rule for yourself, not your spouse. An example might be, "I am not staying in a conversation that includes yelling". Notice it doesn't have a "you" rule, just an "I" rule. Boundaries are meant to bring order and safety to our relationships, which reduces negative emotions such as powerlessness and resentment. Boundaries are never intended to control or manipulate another person.
6. Seek Counsel
Every single person is unique with different capacities to manage difficult emotions, circumstances and relationships. Sometimes, our emotions take over and move into the driver seat. That can make relationships difficult to navigate. Sometimes we are so close to a person or situation it can cloud our insight and awareness. Be sure to seek counsel to navigate the deep waters of your heart when needed. Sometimes a well worded question or a different perspective can be a game changer!
The purposes of a person's heart are deep waters, but one who has insight draws them out. Proverbs 20:5
7. Know Your Value
When I say "know your value", what I mean is, know that you are valuable, significant and worthy. When that truth is etched on your heart all the other tips to overcome police wife struggles make sense. Know that you are valuable, significant and worthy even when things are hard, even when the police marriage is hard, even when you don't handle it well and even when your spouse is having a hard time. Knowing your value will change your life – it will change everything. (Go here to learn how to begin to know your value.)  It will be easier to stop personalizing things, set limits, recall the good things in life, seek counsel when needed and communicate well.
Quick Recap of Tips to Overcome Police Wife Struggles
Our law enforcement spouses endure hard things all day, every day and nobody escapes the effects of the job. Unfortunately, those effects collide with marriage and family life. As a result, police wife struggles are a real thing and a hard thing at times. But we can choose to react or respond to the hard places. The goal is to approach police marriage with grace, love AND truth. My best seven tips for wives come from my personal experience as a police wife and my job as a licensed therapist.

First, keep the lines of communication open. Don't personalize the side effects of the job – it's not about you! Third, keep negative thoughts in check. Be purposeful in pulling back and seeing the whole picture. Next, be prayerful. Lift your heart and your spouse's heart up to the Most High. Also, set limits – remembering to speak the truth and love. Accountability is an important piece of every healthy relationship. Next, seek counsel– know when you need to get an outside perspective or guidance. Finally, know that you are valuable, significant and worthy. Knowing that makes all the other tips much easier to accomplish.
FREE Police Wife Guide- Top 10 Ways to Rock Police Wife Life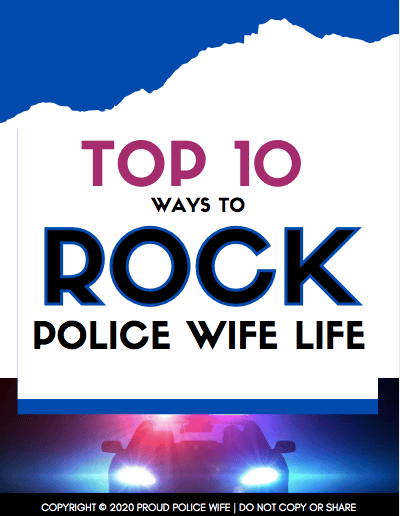 Learn to rock police wife life with these 10 easy tips! Join over 20,000 fellow police wives who are learning to rock it and feel supported with our help each week! Once a week I will provide you with even more ways to feel encouraged and supported for your law enforcement wife journey with my newsletter.
Read my PRIVACY POLICY here.