Staying connected to your officer can be hard at times. You may only see him/her a few minutes a day, he/she may work shift work, your schedules conflict and are opposite. I have found that you have to be creative to stay connected to your officer and keep in contact with him/her. I seriously can not go days upon days without any interaction at all. Yes, it happens, but not if I can help it. I need to feel a sense of connection, some way or another. I think it is just my personality. I like to be around people, have a certain amount of adult interaction with friends, etc. So feeling a sense of closeness to my husband is important to me. I am sure it fits into my love language somewhere.
I am the type of person where little things count more than big gestures. Meaning, a small, quick text message may completely turn my day around. I don't need a gift, or massive amounts of time, just some small way to know you are thinking of me. Right, honey? 😉
Over the years, I have noticed that my husband needs the same. He may not say it explicitly but I feel more of a closeness to him and our relationship feels stronger when we we both make time for one another. It is all about being intentional. We purposefully make the time to be with one another or show one another that we are thinking of them, even when not together.
Here are 6 ways you can stay connected to your officer, even if you aren't together:
1. Facetime, Hangout or Marco Polo. Thank goodness for technology! If it is a late night for my LEO, I shoot him a quick text to see if he can get on Hangouts and we talk real quick. It's also a great way for our kiddos to see Daddy! It makes us all feel better to see his face and know he is safe!
Grab the All-in-One Police Wife Reference Guide
Grab this handy reference guide for all things police wife! From important dates & events to resources for law enforcement- all in one place! Subscribing also gets you access to my weekly newsletter full of tips and encouragement.
Read my PRIVACY POLICY here.
Marco Polo has become our new go-to and favorite! You can easily send video messages to people and they can view them whenever they are able to. Then they can just as easily message you back with a video. Our kids love it, too!
2. Notes in your Officer's Lunchbox. Keepin' it old school. I love handwritten notes of any kind and a handwritten note in your LEOs lunchbox takes literally 1 minute! Even better if you have time to make their lunch! 😉
Here are the notes I made and love to use in my officer's lunchbox. They are a great way to stay connected and give my officer a pick me up! There are 8 love notes, including 3 fill-in the blank notes that you can personalize! Check them out in my shop by clicking the image.
3. Cop Car Coffee Dates. If you are fortunate to live close to where your LEO works than this is something you could try. Meet up with your favorite beverage, roll those windows down, and have a quick date! This is a favorite in our house, especially for the kids! Bringing a meal is an added bonus, ya know!
4. Date Night-IN! If you don't have a lot of time to go out on a real date outside of the house, try one inside! Put the kids to bed, put up a movie on TV, and pop some popcorn. Quick tip: Put those phones away and try not to have any distractions. Focus on one another. You may have to mark this day on your calendar in advance- it is worth it! Remember, be intentional!
My husband and I's favorite way to have a date at home is with the DateBox Club boxes. You can get a date in a box shipped to you each month and you can have a date at home whenever your schedule allows! Each box is fun and filled with sweet treats and exciting activities!
5. Meals AFTER the kids go to BED! My LEO is good at this. With 3 kids, it is hard to get out. So we make a plan to put the kids to bed early, then my LEO orders food out and picks it up. We have a nice dinner, that our kids wouldn't eat anyways, and enjoy spending time alone. Thanks to my LEO for starting this one!!
6. Spread the LOVE! My LEO and I have a picture frame in our bedroom that we write endearing messages to each other on. Granted, sometimes, life gets busy. But we try! I found this idea on Pinterest and snagged it up! It was meant as a Valentine idea, but we use it all year long! Sometimes the messages are silly, romantic, etc. Whatever you think will cheer one another up 🙂 Thank you Super Savings Mom Blog!
Listen, it doesn't matter exactly what you do, just remember to make time for one another. It is so very important to put your marriage first. Time really flies and tomorrow is not promised. Stressful jobs make for stressful lives and even more stressful marriages. You work hard in your career, make sure to work hard in your marriage, too. It really is the little things in life that matter.
FREE Police Wife Guide- Top 10 Ways to Rock Police Wife Life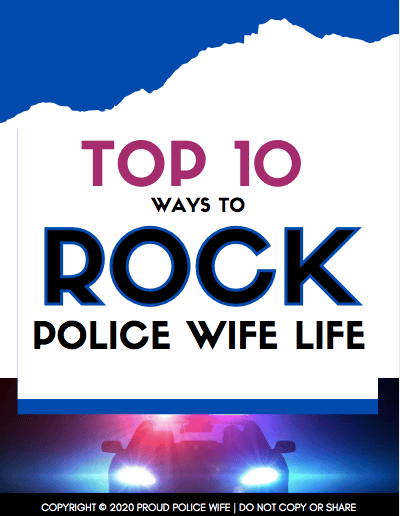 Learn to rock police wife life with these 10 easy tips! Join over 20,000 fellow police wives who are learning to rock it and feel supported with our help each week! Once a week I will provide you with even more ways to feel encouraged and supported for your law enforcement wife journey with my newsletter.
Read my PRIVACY POLICY here.