5 WAYS BEING A POLICE WIFE CAN PREPARE YOU FOR MOTHERHOOD
I was a Police Wife (& Fiancé) for nearly 5 years before entering motherhood. While being a Police Wife AND a mom has more challenges, I was well-prepared with 5 years under my belt.  I am thankful I had so many years as a Police Wife first; it really helped me to find the positives in this life we live. My officer and I had the time to work on struggles we had associated with the first responder life. We were able to do that without kids. We were able to focus on our marriage first.
I realize not everyone's husband may be a Police Officer first then you get married, have children and so on, but wherever you are on this journey, I hope you can relate! 😉
5 WAYS WE ARE BETTER PREPARED FOR MOTHERHOOD AS A POLICE WIFE:
1. We are used to getting up in the night. You will be prepared to get up with your baby during the night because this task may not be new to you. I was used to getting up at night or waiting up at night until my husband walked in the door after a long shift. We also had a puppy we were house breaking so letting her out at night was all on me. If I heard a noise-no problem- I would get up to check that out, too.
2. Schedule changes. How many of our husband's are on a rotating shift? Court on days off? It was hard to learn to keep up with my husband's schedule as a police officer. It took a few years to adjust to his constant schedule changes. If you have a baby, you know this well, too. Just when you think you have understood or adjusted to your babies sleep and feeding schedule, they change it up on you! Now that some of my children are older, balancing all of their extra curricular activities with school are just as hard to balance. Keeping a calendar is the only thing that helps keep us all together!
3. Finding treasures in the laundry. I am a pro now at cleaning out my husband's pockets, uniforms and civilian clothes. Thank goodness because I have never seen a three year that can smash so many tiny pieces of paper in a pocket before I had my daughter! Not just paper, but tissues, flowers, "treasures", food, you name it, she hides it in pockets! She must have inherited that from my hubby 😉
4. We are used to eating alone. Either my LEO (law enforcement officer) is not home for dinner or I am used to him possibly having to leave in the middle of our mid-shift dinner dates. Never did I think once I had kids that this would continue. One of two things usually happens: Either dinner time is so crazy busy and I am feeding all 3 kids and the dog, that I don't get a chance or eat, so I eat alone later. Or one of my kids is getting up for the 100th time in the middle of dinner. (We are trying to work on that one :)) Now as they grow older I hope this phases out and dinner is more relaxed and a time to be together. But right now, with such little kids, it is sometimes crazy.
5. Being Quiet. I learned to tiptoe around to not wake my husband during the day, if I was home from work. He worked nights and would sleep during the day. Once we had kids, I did the same. I wouldn't dare wake my sleeping baby. I learned to empty a dishwasher without making a sound. Oh, the perks of night shift. 😉
Life is a balance. Trying to find the silver lining or positives, as small as they may be, can help you get through your next phase of life. I hope you can relate 😉 Or, if you don't have little ones yet, then you know what you can look forward to!
FREE Police Wife Guide- Top 10 Ways to Rock Police Wife Life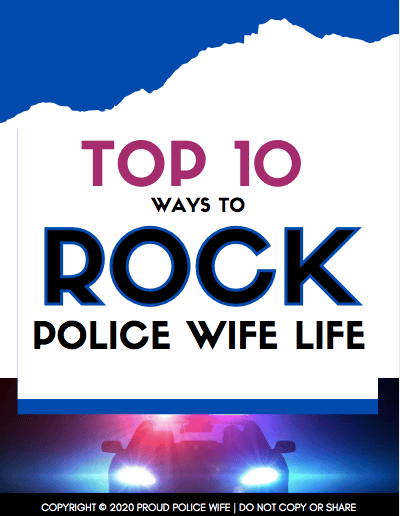 Learn to rock police wife life with these 10 easy tips! Join over 20,000 fellow police wives who are learning to rock it and feel supported with our help each week! Once a week I will provide you with even more ways to feel encouraged and supported for your law enforcement wife journey with my newsletter.
Read my PRIVACY POLICY here.