This is a guest post by Heroes Financial Coaching.
First responder families have enough to stress over, the holidays don't need to be one of them. Holidays are a wonderful time to gather with family and friends and celebrate together, whatever day that might happen for the first responder family. For many though, this time brings lots of stress, especially financial stress.
Do you feel it? Paying for the cute Halloween costumes, the bags of candy and Thanksgiving isn't even here yet but many of us are already trying to figure out how to afford Christmas presents without breaking the bank.
Below are 5 ways to help you enjoy your holidays and lower the money stress.
5 Ways First Responder Families Can Save Money During the Holiday Season
Make a Plan Ahead of Time
You know the holidays are coming, so be sure to add Christmas gifts to your spending plan. Make a plan of how much you are going to spend. You want to include items like gifts, Christmas lights, yummy treats or activities so you aren't caught off guard. Is that amount $500 for your family? Would $100 be a more reasonable amount this year? Decide on an amount that won't add stress to your finances. You don't want money stress to make you miserable and steal the Christmas Spirit from you. Once you know that number, do your very best to stick with it. You'll thank yourself later when you know you've stuck to your plan and you are not worried about if you spent too much money this year.
Make a list of who you are going to be getting gifts for this year and be intentional about who goes on that list.
Are you getting gifts for grandparents, friends, kids, teachers, siblings, inlaws, co-workers, the Amazon delivery driver? The list could go on and on. And if that works into your holiday spending plan, that's great! But make that list ahead of time and remember, just because one person sent you a gift, doesn't mean you have to get them one. A sincere thank you goes a long way. Remember, the holidays are about giving, not repaying someone for what they gave you. It's not a competition. Once you have your list, decide how much you will spend on each person and then stick to it. You can get everyone on your list a gift without breaking the bank.
It's okay to say "We're having a smaller Christmas this year because we are trying to stick to our financial goals."
I'm sure people would rather you not give them a gift, than to give them something just because you felt pressured, even though you couldn't afford it. Before we had kids, my husband and I would often spend much more on gifts for ourselves, friends and families. Now we choose to limit our spending on others because we want to make Christmas more special for our kids. We also spend less than we used to, simply because having kids makes our daily expenses go up. It's totally acceptable to have a smaller gift budget. You don't need to feel any shame around prioritizing what's important to you and your family.
Make homemade gifts.
Pinterest is your friend here! Make those adorable Cookie Mix in a mason jar for a teacher instead of giving a gift card this year. Make homemade toffee, candles, bath bombs, the list is practically endless. If you have kids, let them help you with this too! It will make the activity even more fun and the person receiving the gift will love knowing that your kids helped out too! This is especially true of grandparents.
Find ways to bring in some extra income for your holiday spending so you don't go into debt.
Many people are stressed about finances. In fact, approximately 72% of Americans are feeling worried about their money. Don't let overspending on the holidays bring you deeper into debt. Here's some easy ways to bring in extra cash before the holidays come:
Have a garage sale to get rid of any extra items you might have. It's a great chance to declutter before you add more toys or other items into your home and you can make some extra cash this way.
Work one overtime shift to cover the cost of Christmas gifts this year.
Do grocery delivery or Door Dash and earn some easy extra cash. My husband and I have even done it together on a date night. This is one of the easiest, less stressful ways to make some extra money quickly. Just be aware of where you live and that delivery shops are safe in your area.
Loosen up money in your budget from other areas to spend on the holidays. Maybe lower your eating out budget for the month and use that money towards gifts.
You want to enjoy this holiday season, not stress about it. Don't let Christmas spending turn you into the Grinch. Take time to implement these 5 ideas for first responder families and get your Christmas Spirit back and have fun with your giving!
This is a guest post from Courtney at Heroes Financial Coaching.
Courtney is a veteran wife and current police wife that helps first responders and their families remove financial stress with one on one financial coaching. She understands the stress that comes with the first responder life style and she can help you remove the stress that can arise from finances.
Courtney and her husband had years of credit card debt, car payments, and student loans. With the right plan they were able to become debt free except for their home and a live a life that isn't weighed down by financial anxiety.
Her goal is to help first responder families become the hero in their financial journey. She does this through one on one coaching and goal setting to help you make a plan to be financially stress free!
Contact Heroes Financial Coaching on Instagram or via the website here.
FREE Police Wife Guide- Top 10 Ways to Rock Police Wife Life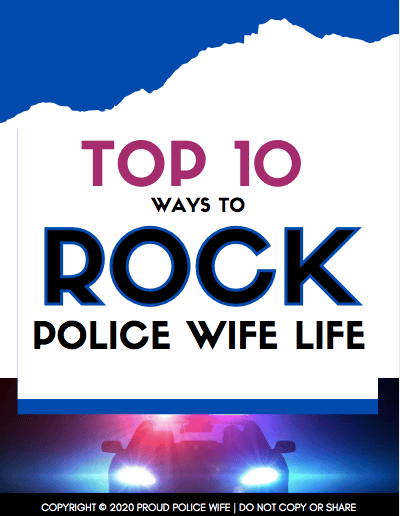 Learn to rock police wife life with these 10 easy tips! Join over 20,000 fellow police wives who are learning to rock it and feel supported with our help each week! Once a week I will provide you with even more ways to feel encouraged and supported for your law enforcement wife journey with my newsletter.
Read my PRIVACY POLICY here.