If you have read posts on my blog before then you know I try to be super helpful when it comes to helping you navigate police wife life. Like tips for cleaning uniforms, finding work from home jobs as a police wife, and resources for your law enforcement life in general.
But let's get real. Police wives do SO much. We are on our A-game all the time, so what is going to help us make our days go by a bit easier? What is really going to keep your sanity in-check?
I'll tell you what: a REAL list of the MOST important things police wives need right now. No matter where you live or where your husband works, police wife, you NEED these things.
They will make your husband's shifts go by faster, smoother, and keep you and your kiddo happy for years to come.
So let's brighten up our day with a little police wife life humor, shall we?
Here are the top 5 things EVERY police wife NEEDS:
Wine, we need wine.
Pick red or white and have it handy. I mean really you should buy it at every grocery run and be sure to have it ready especially for night shift.
A true friend that GETS it.
Yep, whether she is a fellow law enforcement wife or not, find someone that you can vent to and commiserate with. Heck, even drink that wine together.
Join the 5 day Worry-Free Police Wife Challenge!
Get quick (in 10 minutes or less) ways to bring more balance to your police wife life! Subscribing gets you access to my weekly newsletter, encouragement and police wife resources, too!
Read my PRIVACY POLICY here.
Target.
Seriously, this is a sanctuary. I will let you slide with any other store of choice. Even Amazon 🙂 But who does not love walking mindlessly around Target letting the aisles take your cares away? You can find me there almost every week, usually with a latte in hand. I used to go when my officer was working as it made me feel less lonely but now I use it as my police wife/mom life escape. When my officer is off, I go to Target alone and consider it "me" time. Bonus: it is only 5 minutes from our home.
Starbucks within 5 miles.
Or a Starbucks in a Target, because…why not? Or any other coffee shop of your choice. I reserve my Starbucks moments for days I am wayyyy tired. My officer has worked night shift, my kids knew it so they woke up about 1249383 times, and I am in zombie mode with a long to-do list. What can make my day better? A quick little trip to grab for a caffeine kick!
A babysitter.
I mean a good one. One that is flexible when our husband's schedule change AGAIN. I mean who will have your back, ladies? This can take some time to find, but have someone on stand-by that can help you in a bind. I can not tell you how many times I had to work, my officer was scheduled off, but guess what, he now has court or is stuck in overtime. Then I am left scrambling for childcare.
Or maybe you need a sanity saver. That counts, too. Have that babysitter on speed dial.
I mean, really. Is this list too much to ask for? I think not. Even if you need all 5 in one day, I got your back blue sister. 🙂 This life is hard on us too, so don't ever feel bad asking for help. Actually, give yourself permission to do so.
FREE Police Wife Guide- Top 10 Ways to Rock Police Wife Life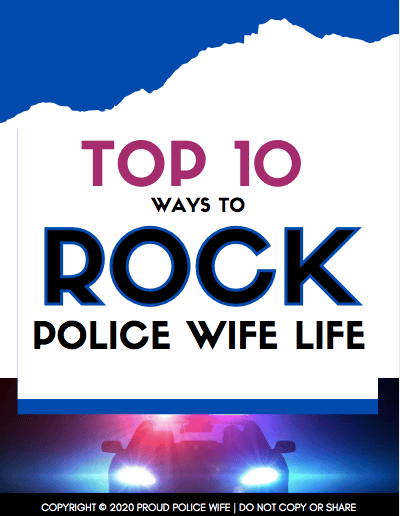 Learn to rock police wife life with these 10 easy tips! Join over 20,000 fellow police wives who are learning to rock it and feel supported with our help each week! Once a week I will provide you with even more ways to feel encouraged and supported for your law enforcement wife journey with my newsletter.
Read my PRIVACY POLICY here.