Guest post by Deja Cronley
Things had finally slowed down for the night. Both of my patients had delivered and were doing well, resting and bonding with their new babies during that magic 24 hour period when newborns do nothing but sleep right after their born. I had a ton of charting to do but it would have to wait. I was starving!
I headed to the break room and opened the fridge only to remember I never packed a lunch- or rather 2 am snack when I woke up this evening for work. 12 hour shifts are hard but night shifts were awful. The cafeteria was closed so off to the vending machine I went.
I finished off my shift a few hours later and then headed off to McDonalds to get my favorite breakfast, two bacon egg and cheese biscuits, before heading home and passing out for a few hours.
I woke up feeling slightly nauseous (as normal) that evening and did the same thing again… over and over and over.
Why do I tell you this? Because I get it.
In a previous life (aka before I had children and became a work from home mom) 12 hour shifts were brutal and I obviously did not handle them well. I cringe at my diet.
If I were to do 12 hour shifts again, I would be much better prepared because it has finally sunk in that preparation is the key to living a healthy lifestyle (without going insane).
Now, I know you may not be working 12 hour shifts yourselves but it's not uncommon for spouses to prepare meals for those they love.
So, here are my top
5
tips to make living a healthy lifestyle a whole lot easier while working (or preparing food for someone who is working) a 12 hour shift.
1) Pack a cooler
Packing a cooler versus a lunch box allows for a lot more food. Depending on how busy the day is, all the food may not get eaten but having options is key to resisting the temptation to snack on other unhealthy alternatives. If you would like a few choices, check out this article Men's Journal did on the best travel cooler bags for men. 
2) Include 3 snacks
Most people think to pack two meals (assuming one is eaten at home) but snacking is going to occur during a 12 hour shift so they might as well be healthy. Organic fruit, hard cheeses, nuts, and grass-fed jerky are all great snacks that can easily be eaten on the go. Here is a list of other great snack suggestions.
3) Pre-Cook Ingredients
Now this one depends on the person but I have always found that, other than soups and crock pot meals, foods tend to come out better when packaged separately. So instead of packing an entire meal into one big tupperware, try and pack foods individually in smaller tupperware bowls- even sandwich ingredients.
This may not work for everyone so it may be a bit of trial and error but I would much rather take two minutes to slap together a sandwich than have soggy bread. On the flip side, I would also rather grab a sandwich already made if I am eating in a rush. So get feedback and do whichever works best your spouse.
4) Easy Salads
Mason jar salads are awesome! Put a little bit of healthy olive or avocado oil based dressings then pack organic vegetables, nuts, fruits, and meat on top. When it's time to eat, simply unscrew and dump into a bowl for an easy meal.
5) Invest in a Blender
You can prepare shakes in a similar manner as salads. Place all of the desired fruits, vegetables, nuts, oats, etc  into a personal blender cup and then in a separate container a bottle of water and desired liquids (water, coconut water, almond milk, full fat milk, etc). Don't forget to pack the base and cord then all your spouse needs to do is pour the liquid in, blend, and drink.
Admittedly, shakes can take some getting used to and there can be a lot of trial and error involved but, if your spouse is willing to experiment, this is a great way to get a boost of nutrients in a quick and easy manner and there are an infinite amount of possible shake ingredients.
Feeding Those We Love
Being healthy and helping those around us be healthy takes commitment but that commitment does not have to be overwhelming. The best way to help your spouse (and yourself) when it comes to eating healthy is to have a plan.
Start off this week with asking your spouse what kind of healthy meals and snacks he or she prefers. From there, make out 3-4 days worth of meal (and snack) plans then create a grocery list of everything you will need.
From there, it's simply a matter of cooking the meals beforehand and packing them up or meal prepping. If you can, try and batch cook to make it easier on yourself.
It may take your spouse a bit to get used to your new routine but it won't be long before they notice a difference in their energy levels throughout the day (or night).
Have you found any tips that have made healthy eating easier during shift work? If so, drop a comment below!
Deja Cronley is a Registered Nurse turned blogger. She fell in love with natural living four years ago and has dedicated herself to educating others about organics. She loves Crossfit, the beach, and playing with her kids. Read more about organic, non-toxic living at DejaVuOrganics.com
FREE Police Wife Guide- Top 10 Ways to Rock Police Wife Life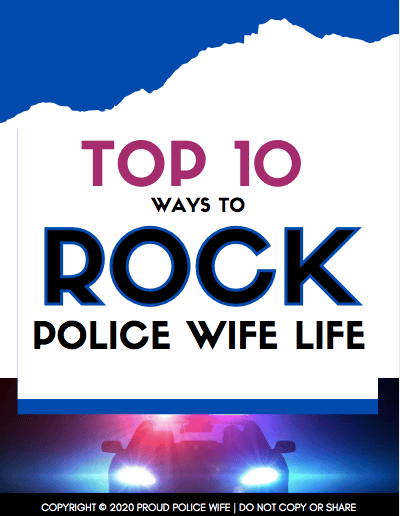 Learn to rock police wife life with these 10 easy tips! Join over 20,000 fellow police wives who are learning to rock it and feel supported with our help each week! Once a week I will provide you with even more ways to feel encouraged and supported for your law enforcement wife journey with my newsletter.
Read my PRIVACY POLICY here.