Whew! What a crazy few weeks it has been. Illnesses, out of town guests (which was an awesome surprise), parties, and crazy schedules! I feel like I can finally get back into my groove. With these crazy few weeks, it had me thinking. When my LEO is working and I am juggling a busy schedule plus a sick kiddo in the mix, what would I do without my quick fix, go-to meals? There are meals that I always keep in our rotation and are easy for me to prepare. Generally, everyone in the family likes them, which is an added bonus! I often resort to crockpot meals because they don't require much attention from me. Also, I can start them early in the day, which, if you have kids, is usually the calmest part of the day, too. They are great for my LEO because I can keep them on the warm setting and he still gets a hot meal when he gets home, whatever time of day that may be.
So, here are my TOP 5 GO-TO Crockpot Meals for when my LEO is working:
1.Chili. Not just any Chili. White Bean Quinoa Chicken Chili. Say that 3 times fast. You can totally cook whatever chili you like, but this recipe is AMAZING! A friend shared it with me and it tastes like restaurant quality. I follow the recipe from Closet Cooking, pretty closely. I just add sour cream and broken blue corn chips at the end for a little color. We also omit cilantro because we are not fans. You absolutely want to give this one a try! You can cook this on the stovetop, but why not make your life easier and cook it in the crockpot? Same result!
2. Sausage and Peppers. This recipe is SO EASY! I literally just buy a mixture of Sweet and Hot Italian Sausage (or brats), a frozen bag of peppers and onions, and hoagie or sausage rolls. Dump it all in the crockpot (except the hoagie rolls) and cook on LOW for 6 hours or HIGH for 3 hours. Serve on the hoagie rolls when done! It's that easy, folks!
3. Beef and Broccoli. I love Chinese food, but it is not fun to order it out because my kids won't eat it. So eating it alone, is not enjoyable. It can be pricey and I don't think reheated Chinese food is any good. So we tried this recipe one day and we loved it. My kids will eat the plain rice and I set aside some steamed broccoli, which they will eat, also. Then I usually just pop in some chicken nuggets for them and call it a day. Bonus: this recipe tastes better the longer it cooks. Perfect for your LEO! This recipe does require a few more steps then I usually use for a crockpot meal, but it is worth it! Check it out here from Cooking Classy!
4. Baked Sweet Pork Chimichangas. THIS IS MY FAVORITE!! This meal is going to be your new family favorite. You are welcome. We use the meat from this recipe many ways, not just in chimichangas. Sometimes just on a bun like pork bbq, in a warmed tortilla, over rice, the possibilities are endless. I got this recipe from Six Sisters' Stuff, a food blog and website with so many amazing recipes. This recipe is often a substitute for taco night in our house. Get the recipe here!
5. Pot Roast. This is seriously so easy and delicious. There are so many versions of pot roast out there and many of them good. This is just the easiest one for me, that has great taste, and at least 1 of my kids will eat. I buy a 2-3 lb chuck roast, whatever is on sale and looks good that week, 1 bag of baby carrots, and [easyazon_link identifier="B00CSS40N0″ locale="US" tag="proudpolice09-20″]Campbell's Tavern Style Sauce for the Slow Cooker[/easyazon_link]. So yummy! I am not usually a fan of "pre-made" sauces, but this is one that we really like. I throw all three ingredients in the crockpot at once, cook on low for 8 hours or until the roast is tender and pulls apart with a fork. I serve it with mashed potatoes and french bread.
QUICK TIP: Buy Crock Pot Liners by Reynold's for quick and easy clean up. Just toss in the trash after use and your crockpot stays clean! You can find those [easyazon_link identifier="B00HVG7SYW" locale="US" tag="proudpolice09-20″]here[/easyazon_link]. I always use these unless I happen to be out of them, which is always a sad day.
Also, here is my favorite crockpot. You can find it [easyazon_link identifier="B004P2NG0K" locale="US" tag="proudpolice09-20″]here[/easyazon_link]!
Also, be sure to follow us on Pinterest and check out our "Cooking for your LEO" board for more delicious recipes!
What are some of your go-to meals? We would love to hear from you!
**Stay tuned for our upcoming posts on our favorite go-to Instant Pot and Airfyer recipes!**
FREE Police Wife Guide- Top 10 Ways to Rock Police Wife Life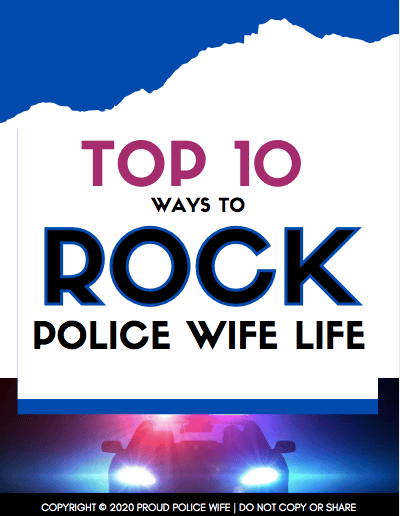 Learn to rock police wife life with these 10 easy tips! Join over 20,000 fellow police wives who are learning to rock it and feel supported with our help each week! Once a week I will provide you with even more ways to feel encouraged and supported for your law enforcement wife journey with my newsletter.
Read my PRIVACY POLICY here.