Today's episode and blog post are brought to you by Pictures on Gold. Pictures on Gold offers high quality jewelry including a police and firefighter collection with badge necklaces, earrings and more. Use code PROUDPOLICEWIFE for $10 off and shop here.
We know all too well the dangers that exist in life in general, but those dangers also exist with careers in law enforcement.
And I know it can be depressing to think of those dangers. For some you, you may just brush them off and ignore them. I get it. But in reality, it's important to be prepared for any emergencies that can happen in life, especially as a law enforcement family.
Do you have to dwell about the risks of the job and live in fear? Absolutely NOT! That's not what I want you to do at all. Instead, I urge you to have conversations with your spouse about these hard, not so fun, topics so you can feel as prepared as possible, should an emergency arise.
No amount of preparedness will make you feel 100% prepared in any emergency, but what it can do is alleviate some stressors so you can focus on your family when they need you most or after a tragedy.
Here are 4 ways to prepare for emergencies if you are a law enforcement family:
Life Insurance
The first is life insurance. Every law enforcement family should have protection for their family and this life insurance should come from outside of what the department offers. Absolutely research the best options for your family.
Have a Will Prepared
This is a HUGE step that many families skip. Start the conversation now with your spouse about what that will look like for your family and take the necessary steps as soon as possible to have a will and/or trust established (especially if you have children).
Have Discussions About What Your Family Will Do in the Event of an Emergency
This is going to look different for every single couple/family. But having regular conversations with your spouse (yearly or every 6 months) about finances, passwords, phone numbers, who to contact in case of an emergency, etc. is vital.
Many couples have a hard time getting those conversations started, because, well, they aren't fun. If you need direction on what conversations to have and what you should be talking about, you can grab The Police Wife Resource Binder here.
Once filled out, you can keep this binder and it's contents in a SAFE place. It is then available for you to access during an emergency and you don't have to think of passwords and account numbers during an emergency or mentally taxing period of your life. Instead, you can focus on you and your family when they need you most.
Be Familiar with Your Spouse's End of Watch Paperwork At Work
Most departments have some version of 'end of watch' paperwork that they have officers fill out. First, make sure you are familiar with what your spouse wrote down. You will not get a copy generally from the department but you can have your spouse recall this information and place it in The Police Wife Resource Binder for safe keeping.
Next, make sure any information the department has is UP-TO-DATE. I can not stress this enough. If an emergency happens, do you and your spouse want the department calling his/her old roommate instead of you? Many times emergency contacts and their numbers need updating after marriage or life changes.
Make it a habit to update this information YEARLY or after big life changes.
While we can not fully prepare for every emergency that happens in life, you can do your best to prepare for certain aspects of those emergencies as a law enforcement family or couple.
FREE Police Wife Guide- Top 10 Ways to Rock Police Wife Life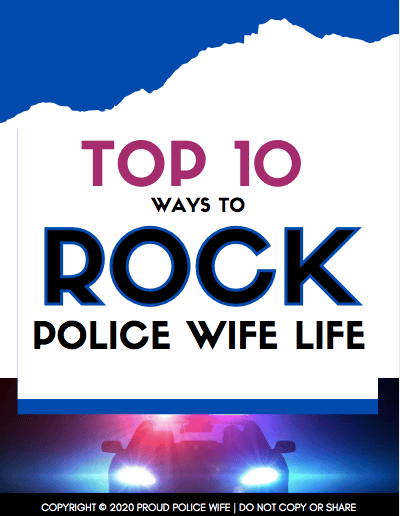 Learn to rock police wife life with these 10 easy tips! Join over 20,000 fellow police wives who are learning to rock it and feel supported with our help each week! Once a week I will provide you with even more ways to feel encouraged and supported for your law enforcement wife journey with my newsletter.
Read my PRIVACY POLICY here.