It can be so hard to find time to be with your significant other without other obligations, right? We really have to be intentional to carve out time for dates. Not to mention, inexpensive dates for many police couples are an absolute must. We all know that our officer's don't do the job they do for the money. So choosing dates that don't break the bank can increase the amount of dates you can possibly have each month.
For us, the movies are usually out due to price, so going to the theatre was not a date that made this list. The movies have gotten SO expensive and you don't get real quality time as husband and wife. I would much rather view a movie at home, in my pjs, snuggled up next to my husband vs. sitting in a dark, cold theatre in seats that leave my back sore.
Some of my favorite dates on this list are ones that you would not normally think of or ones that seem mundane. Taking a walk around our local downtown area is my absolute favorite! It is peaceful, FREE, and I get time to actually talk to my husband. When going on a date that costs money, always find a deal first. Shop around, sign up for companies' newsletters for great offers, check for sales at particular venues you are looking into or use Groupon to score awesome discounted prices! Using Groupon does take some planning up front, but it is well worth it so that you can have a cheaper date and save some money. In addition, I always see a new event or activity on Groupon that I would not normally have thought of, like kickboxing or a nearby light show. They are always worth checking out.
*I put a star next to some of my favorites!
Grab the All-in-One Police Wife Reference Guide
Grab this handy reference guide for all things police wife! From important dates & events to resources for law enforcement- all in one place!
35 inexpensive dates for police couples:
Walk in the park or local downtown area*
Go window shopping
Date Night In Box*- I love being able to open date box whenever we have the time! It keeps date night entertaining and fresh!
Take-out and a movie @ home*
Go for a run
Break out room- have you heard of this? It is like a real live game of clue where you have to break out of a room with a few other couples. So fun!
Dinner out @ a new restaurant
Fishing
Laser tag
Bowling
Paint Night
Go to the range*- My new fav! I am so glad I was open to trying this with my husband!
Archery*- I recently tried archery on my trip to Wyoming with the Chris Kyle Frog Foundation and LOVED it!
Massages
Pedicures
Put your phones away, drink wine/beer, & talk
Winery*
Brewery*
Museum
Visit a nearby city
Take a cooking class
Coffee
Play or show
Sign up for a cheap photography mini session
Play games- board games, card games, xbox
Zoo
Picnic lunch*
Sign up for a dance lesson or two
Take turns cooking for one another
Visit a lake or beach (if close by)
Swimming (weather permitting)
Self defense classes
Kick boxing class
Visit a cavern or natural landmark*
Visit a state park

What is your favorite way to spend time with your officer? Will you try anything off this list? If so, please let us know!
Remember, as long as you are having quality time with your significant other, you can work on your relationship! Dates don't have to be expensive- just intentional!
FREE Police Wife Guide- Top 10 Ways to Rock Police Wife Life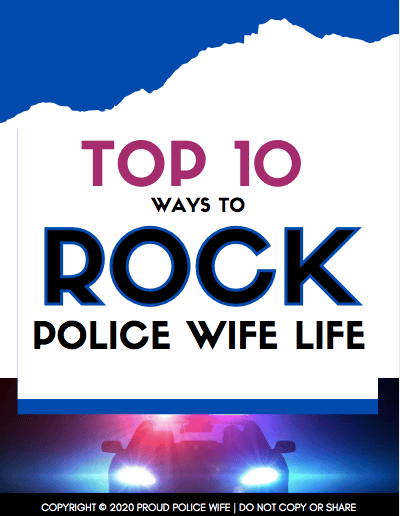 Learn to rock police wife life with these 10 easy tips! Join over 20,000 fellow police wives who are learning to rock it and feel supported with our help each week! Once a week I will provide you with even more ways to feel encouraged and supported for your law enforcement wife journey with my newsletter.
Read my PRIVACY POLICY here.