This is a sponsored post on behalf of Yogasleep. All opinions are honest and my own.
The word 'night' is relative right? Whenever our officers can sleep, they need to. One of the hardest things for shift workers is getting good quality sleep whether that sleep is at night or during the day. Their bodies are constantly adapting to different sleep schedules at all hours of the day. And they physically need good lumbar support when resting due to wearing a heavy duty belt and spending many long hours on their feet.
It is so important for all of our officers to get solid sleep so they can start each shift feeling refreshed. It took a lot of trial and error but my husband found the best ways for him to get quality sleep even when he sleeps during the day.
Here are 3 tips to help your officer get a better "nights" sleep:
Noise cancellation machine/sound machine
Nothing is harder than trying to get sound sleep during the day while having to block out daytime noise. Night shifters are forced to sleep at abnormal times and that may mean with kids home, neighbors mowing the grass, cell phones ringing and so on. The only way to block that out is to use a good quality sound machine to drown out the noise.
My husband prefers a white noise machine called Dohm. It is a fan based white noise machine and blocks nearly all background noises for a more restful sleep.
We love that it is portable and fairly small so we can bring it with us when we travel, as well. We now have a Dohm sound machine in our daughter's room and it is the first thing she turns on before bedtime.
Tired of struggling with night shift?
You CAN find balance while your officer works night shift! This handy NIGHT SHIFT ACTIVITY LIST & TRACKER will help prepare you for any long nights ahead. Join over 11,000 fellow police wives and download your copy today!
Subscribing also gets you a weekly dose of encouragement via my newsletter.
Read my PRIVACY POLICY here.
A good quality mattress
This is the number one way for your officer to get a restful sleep with good back support. I will say, all mattresses are NOT created equal. We've had our fair share of mattresses that we've regretted buying.
That is why my husband and I were so excited to try the new Yogabed mattress by Yogasleep/Marpac.
It is seriously like sleeping on a cloud. It is not too firm but you also don't sink down into the mattress. My husband and I both have bad backs but because the Yogabed aligns to your body for a deeper sleep we aren't waking up with back aches in the morning anymore. We also love that it has four layers of cooling technology that keeps us comfortable all night long.
It comes in a bright orange box and it's almost hard to believe a mattress is rolled up in there!
You unroll the plastic and it takes shape to your preferred mattress size.
We could not be more pleased with the Yogabed mattress- it is worth every penny!
And 5/17/19 through Memorial Day, you can get huge discounts off your Yogabed mattress plus FREE SHIPPING. 
Use code: MEM50 for an EXTRA $50 off 5/17/19-5/31/19.
Blackout curtains
Obviously sleeping during the day means bright sunlight. So my husband also needs the room to be DARK for a long stretch of sleep to mimic "night" sleeping as best as he can. We have found that the best way to keep light out is with blackout curtains.
My husband and I decided that we needed to invest in quality products to help him get proper sleep for a job that requires him to be alert 24-7. We will not take the risk of having him be tired on the job- no officer's life is worth that.
FREE Police Wife Guide- Top 10 Ways to Rock Police Wife Life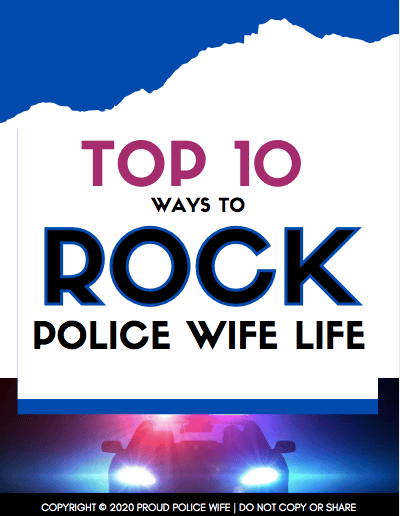 Learn to rock police wife life with these 10 easy tips! Join over 20,000 fellow police wives who are learning to rock it and feel supported with our help each week! Once a week I will provide you with even more ways to feel encouraged and supported for your law enforcement wife journey with my newsletter.
Read my PRIVACY POLICY here.