Okay, I hear you! You need crazy easy meals for your family. As police families, we don't have time to search Pinterest for hours or shift through cookbooks to find an easy rotation of meals.
We get tired of the same old meals every week and our schedules are constantly changing. Mealtime has to be made simpler. And it gets hard knowing what to cook for one person or an entire family AND have that meal be reheated for your officer.
With this long list of meals for a variety of taste buds, you should easily be able to refer back to it again and again and find many meals you'll enjoy!
I only listed meals that I thought were EASY. I am talking Crockpot/Slow Cooker meals, meals with 5 ingredients or less, 30 minutes meals or less and some quick sheet pan dinners. In addition, I added a few allergy-friendly meals for anyone that may need those.
Also be sure to scroll to the bottom for some easy meal planning hacks!
If you do need help just getting organized and figuring out HOW to meal plan around your officer's schedule then this post is super helpful about how I made meal planning work for my law enforcement family. I also have this amazing guide which will walk you step by step through THE only meal planning guide made for law enforcement families. Check it out here and use code: FRIEND for 20% off!
25+ EASY meals for police families:
Crockpot meals:
Easy Crock Pot French Dip Sandwiches by Suburban Simplicity. You guys, I'm drooling!
Photo Credit: Surburan Simplicity
Crockpot BBQ Dr Pepper Pork Chops with only 4 ingredients by Never Ending Journeys. You can also switch up the pork chops with a pork tenderloin to make pulled pork using the same ingredients- also yummy and easy!
Photo Credit: Never Ending Journeys
Slow Cooker Queso Chicken Tacos by Sweet Little Bluebird
Light Crock Pot Stroganoff by Wisconsin Mommy
Photo Credit: Wisconsin Mommy
Slow Cooker Asian Shredded Pork by Joyous Apron
Crockpot Pepper Jack Chicken by Recipes that Crock
5-ingredient Crockpot Pot Roast by Slow Cooker Kitchen
Easy Chili Verde with only 4 ingredients by Girl, Just DIY
Photo Credit: Girl, Just DIY
Easy Slow Cooker Pot Roast by JoAnn's Food Bites
Photo Credit: JoAnn's Food Bites
Easy Orange Chicken with Rice by Nellie Bellie
Crockpot Shredded Chicken by The Recipe Rebel. Yes, this is just for shredded chicken but what you do with the chicken is endless. I make chicken this way a lot and I use it to put in flour tortillas for tacos/burritos and dinner is done in less than five minutes. You could also add it to a pasta dish or soup!
Sheet Pan Dinners:
Easy Turkey Kielbasa and Potato Sheet Pan Dinner by Bites of Wellness
Photo Credit: Bites of Wellness
Sheet Pan Chicken Teriyaki and Veggies by Just a Taste
Sheet Pan Honey Garlic Shrimp and Broccoli by Peas and Crayons
Photo Credit: Peas and Crayons
Grab the All-in-One Police Wife Reference Guide
Grab this handy reference guide for all things police wife! From important dates & events to resources for law enforcement- all in one place! Subscribing also gets you access to my weekly newsletter full of tips and encouragement.
Read my PRIVACY POLICY here.
Skewers/Kabobs:
Easy Pineapple Meatball Skewers by Surburan Simplicity. These look absolutely delicious!!
Photo Credit: Surburan Simplicity
Shish Kebab by Low Carb African
Photo Credit: Low Carb African
Vegan/Gluten Free/Allergy Friendly Recipes
Stupid Simple Vegan Hamburger Helper for Easy Weeknights by Bohemian Vegan Kitchen
Photo Credit: Bohemian Vegan Kitchen
Quick & Easy Vegan Ramen by Choosing Chia
Egg Roll in a Bowl by Evolving Table (keto/paleo friendly)
Quick & Easy Recipes
Creamy Buffalo Chicken Pasta Salad by Nellie Bellie. This is going to be first on my list to make. My family loves buffalo chicken!
Photo Credit: Nellie Bellie
The easiest personal pizzas ever with only 4 ingredients by Nellie Bellie. Perfect for those police families with little ones!
Photo Credit: Nellie Bellie
Quick & Easy Shepherd's Pie by Nellie Bellie
Photo Credit: Nellie Bellie
Easy Broccoli and Chicken Alfredo by Nellie Bellie. This recipe is AMAZING and made often in my house!
Photo Credit: Nellie Bellie
Easy Taco Bake (less than 30 minutes) by A Bit of Simplicity. This is my favorite Instant Pot if you are looking for one.
Photo Credit: A Bit of Simplicity
Instant Pot Chicken Pad Thai by Recipes Simple
Photo Credit: Recipes Simple
Oven Baked Chicken Drumsticks by Nellie Bellie. If you are looking for an easy side dish with this chicken, then Nellie Bellie also has yummy, quick side dishes you can check out here. And, if you can't tell, Nellie Bellie is one of my favorite food sites!
Photo Credit: Nellie Bellie
A few hacks to make mealtime even easier:
-Using a good crockpot is a huge time saver. If you don't have one, this is my favorite that I use every week!
-When using the crockpot, be sure to use these Reynold's Slowcooker Liners for super easy cleanup! With these liners, you don't have to spend hours cleaning up your slow cooker. Just throw away the liner and give the slow cooker a quick rinse.
-Also, a programmable InstantPot can make meals and sides super easy. We use ours to cook hard boiled eggs, make mashed potatoes in 15 minutes, easy ribs and more! This is the brand I recommend.
-When cooking sheet pan dinners, be sure to line your baking sheets with aluminum foil– again for easy cleanup.
I hope these meals inspire you and help take a load off you in the kitchen. If you want to request any other types of meals for police families, be sure to reach out to me via email at info@proudpolicewife.com and I'd love to add them for you!
FREE Police Wife Guide- Top 10 Ways to Rock Police Wife Life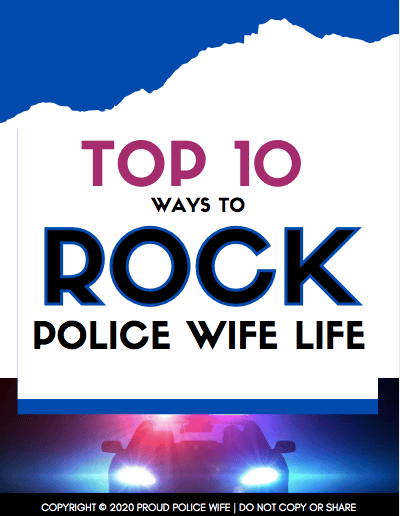 Learn to rock police wife life with these 10 easy tips! Join over 20,000 fellow police wives who are learning to rock it and feel supported with our help each week! Once a week I will provide you with even more ways to feel encouraged and supported for your law enforcement wife journey with my newsletter.
Read my PRIVACY POLICY here.