When days are tough or I just need someone to relate to, I love looking at police wife life memes or quotes. They give me inspiration, encouragement or even a good laugh.
It's nice to know other wives are feeling the same way I am and did you know..these quotes/memes are for police girlfriends, too!
And if you follow me on Facebook or Instagram, you know I love to create relatable memes and quotes all about police wife life.
Without further ado…
Memes all about police wife life:
Oh yes, those pesky uniforms. If you have problems with uniforms all over, then I know many officers who have a rack like this to stay organized.
Is this not accurate? Our "weekends" can be any day of the week!
Or…just plan to go without your officer and if he/she can go, then it's a bonus!
#truthbomb right ladies?
I am sure we could a lot more to this recipe to make up our officer's crazy, unpredictable schedules!
Ahh! The way our bodies go to calm the moment we hear velcro. Nothing could be better!
Are you dangerous like me? HAHA!
Oh yes, my situational awareness has grown tremendously over the years and being married to a police officer has helped that.
We can't forget that even though we miss our spouses and can't wait for them to walk through the door or be at that special event, missing those memories pains them, too.
Grab the All-in-One Police Wife Reference Guide
Grab this handy reference guide for all things police wife! From important dates & events to resources for law enforcement- all in one place! Subscribing also gets you access to my weekly newsletter full of tips and encouragement.
Read my PRIVACY POLICY here.
Flexibility is a strength of ours for sure!
100% yes. We do this because we have to and it is WORTH it!
We walk with them.
Which stage are you in? A mixture of them all?
And we tackle that change with grace!
A police family anthem!
This is one of my favorite memes I ever made. Always makes me laugh!
Again, we are beyond strong and flexible! And we always have plans A, B, and C!
We married a PERSON not just a police officer. Our commitment is to our marriage not this lifestyle.
If you are needing even more inspiration and encouragement, please sure to check out my brand new journal for police wives, The Peacemaker's Wife, now available on Amazon!
What do you think? Relatable? Which meme was your favorite?
I hope you found a quote or meme that you love or gives you a good laugh! If not, what are some memes that you enjoy reading or keep in the back of your mind? Tell us in the comments.
FREE Police Wife Guide- Top 10 Ways to Rock Police Wife Life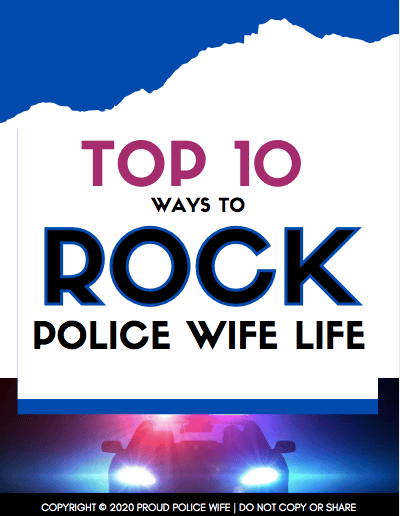 Learn to rock police wife life with these 10 easy tips! Join over 20,000 fellow police wives who are learning to rock it and feel supported with our help each week! Once a week I will provide you with even more ways to feel encouraged and supported for your law enforcement wife journey with my newsletter.
Read my PRIVACY POLICY here.