This is a sponsored post on behalf of Thin Blue Line USA. All work is honest and my own.
Every year, the gifts I find the hardest to buy are stocking stuffers. It is like I seem to forget until a week or two before that my husband's stocking needs to be filled with things other than his favorite body wash and hair gel. Stocking stuffers can actually get super pricey, so I love finding great, inexpensive stocking stuffers my officer will love. And more importantly, actually use!
I like to give him a good mix of police related and non-police related items but finding thin blue line related items isn't always easy. But I can always find what I am looking for at Thin Blue Line USA.
You can even fill your officer's items in this Thin Blue Line Christmas Stocking!
So here are 15+ thin blue line stocking stuffer ideas all for less than $20:
Thin Blue Line Bow Tie. Pretty much my FAVORITE item on this list!!
Thin Blue Line American Flag Golf Balls. If your officer is a golfer, then these balls are great! They come in a 3 pack and they are easy to identify for a day on the course.
Men's Skull T-Shirt. My husband loves punisher designs, so this is super popular in our home!
Thin Blue Line Embroidered Beanie.
Thin Blue Line American Garden Flag. Great for your backyard if you want a more subdued way of showing support!
Also read: The perfect personalized gift that won't break the bank.
Thin Blue Line American Flag Patch. Does your officer collect patches? This is a great one to add to the collection.
Thin blue line glock plate from Milspin
Tired of struggling with night shift?
You CAN find balance while your officer works night shift! This handy NIGHT SHIFT ACTIVITY LIST & TRACKER will help prepare you for any long nights ahead. Join over 12,000 fellow police wives and download your copy today!
Subscribing also gets you a weekly dose of encouragement via my newsletter.
Read my PRIVACY POLICY here.
Field Interview Notebooks. And this is my number two favorite on the list! What officer doesn't use these field notebooks?
Insulated Mug, Thin Blue Line American Flag. Perfect for keeping drinks hot or cold while on duty.
Punisher Thin Blue Line Sticker.
Thin Blue Line Fidget Spinner. Oh, you know, perfect for those days when they aren't too busy on the job. 😉
Distressed Thin Blue Line Coffee Mug.
I hope this list helps you with your shopping this year!
Tell us your favorite item on our list!
FREE Police Wife Guide- Top 10 Ways to Rock Police Wife Life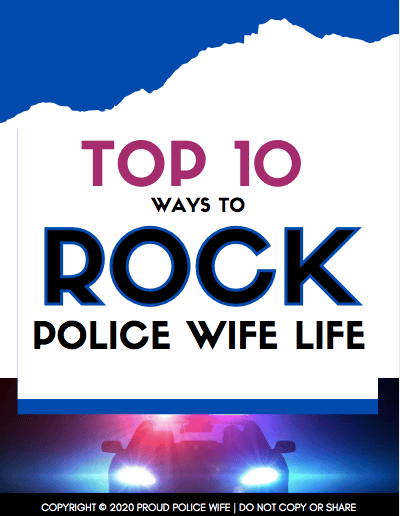 Learn to rock police wife life with these 10 easy tips! Join over 20,000 fellow police wives who are learning to rock it and feel supported with our help each week! Once a week I will provide you with even more ways to feel encouraged and supported for your law enforcement wife journey with my newsletter.
Read my PRIVACY POLICY here.