So I am allllll about making life as easy as possible. The world feels like it is moving at such a fast pace and it can be hard to keep up. Let's take some help where we can get it.
These are my best hacks for police wives that will save you time, money and your sanity that you can use on a weekly basis!
I own each of these and I use them every single week. The crockpot is great for soups, stews, pot roast and more! We love making fish in the air fryer in less than 20 minutes. And the instant pot is my favorite hack for making mashed potatoes.
If you own a crockpot or plan to buy one, then do not go another day without using these amazing plastic liners for the slow cookers. They make clean-up SO simple! You literally just throw it away and you are left with a clean slow cooker.
Steamer for uniforms
This saves a lot on dry cleaning and your spouse can easily use it at home. We have this full size steamer but I know some people love this portable, hand-held steamer, as well.
Shared calendar
Whether you use Google or an app, using a shared family calendar can keep you, your officer and kids all on the same page.
Yes, I did just say that. Ladies, I buy paper plates in BULK and I am not ashamed of it. I already run the dishwasher once a day, I don't need to make it twice.
I love, love, love this white noise machine from Marpac. My kids have them, too and they are perfect for travel. It helps me, my husband and my kids to get quality sleep no matter what sleep schedule anyone is on.
Grocery Delivery/Pick-Up
At least once a month I cave and use grocery delivery or pick-up service. Whether we have a sick kid or I just don't have time, the delivery or pick-up is so worth it to me. WalMart is great for pick-up and Instacart is wonderful as a delivery option.
Each week, I do set aside time to meal plan for our family of five. I plan all dinners for the week and make sure to have plenty of lunch and breakfast options. It saves my family money and the feeling of "having no food" in the house. To save even more time, I meal prep by cutting fruit and veggies in advance. If you need more tips on meal planning, check out this post that is jam-packed.
You HAVE to be prepared for this lifestyle. The Police Wife Resource Binder will help you and your officer gather all necessary information in case of an emergency. It will force you and your officer to have necessary but VITAL conversations about policy information, passwords, back-up plans and SO MUCH MORE. You can use this link for an automatic $7 discount off (a $27 normally). This is one of my favorite hacks for police wives.
"Alexa, what's the weather?" "Alexa, how many ounces are in a cup?"
You can ask Alexa basically any question you want for a fairly immediate answer. I use it for timers, countdowns, shopping lists and so much more.
Safety is obviously huge for law enforcement families and with the RING doorbell you can see exactly who is at your door and so can your officer when he is away from home. The RING also offers security cameras for added protection. We have had our RING for over a year now and we are very happy with it! I love being able to check my phone when I get a notification and see if someone is on our property or not. It just gives me this sense of relief.
So if you dislike vacuuming as much as I do then do yourself a favor and grab an iRobot Roomba vacuum (or another brand robot vacuum). I have it set for each morning to turn on just after we leave the house to drop the kids off at school. Then I come home to clean floors and I just saved myself a ton of time!
WAM- "walking around money"
This may sound funny, but it is a term my husband started using a few years ago. To reduce the amount of spending and eating out while on shift, my husband gets "WAM" each month. WAM is money we take out in cash each month for him to use for eating out, snacks, etc while on shift. This way we don't have little charges on our debit card all month long because those little charges add up. It helps with our finances greatly!
Always have a backup plan
Police wife, you are resilient, that is for sure. You can bounce back from ruined plans in a flash but always try to have some sort of back-up plan so you don't feel too disappointed if your officer's schedule changes.
That one good friend you can always count on
That one good friend can be hard to come by, but if you have one, please treasure it. No friendship is ever perfect, but if you have someone you can trust, is non-judgemental, and feel supported by then be sure protect that friendship as we always need support in this lifestyle.
Bonus tip: A follower on Instagram shared that she likes to put a hamper in the garage for her officer's dirty clothes so they don't come into the house. Great tip!
What hacks for police wives would you add? What hacks have helped you through the years? Share with us on Facebook or Instagram!
FREE Police Wife Guide- Top 10 Ways to Rock Police Wife Life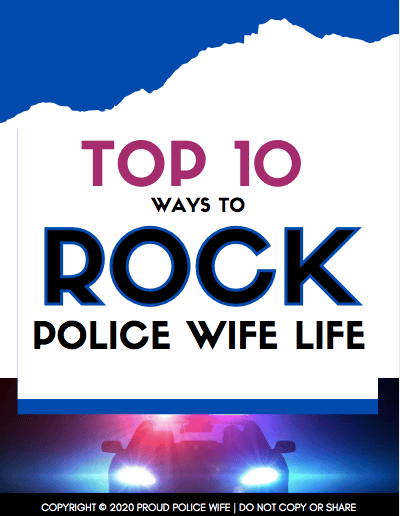 Learn to rock police wife life with these 10 easy tips! Join over 20,000 fellow police wives who are learning to rock it and feel supported with our help each week! Once a week I will provide you with even more ways to feel encouraged and supported for your law enforcement wife journey with my newsletter.
Read my PRIVACY POLICY here.