More often than not, we come up with goals and resolutions for just ourselves, which is great, but it is also nice to think about what we can do in the New Year as a first responder couple.
First responder couples never take time for granted and one thing I know is that they try to maximize the time they have. It is so important for you and your spouse to connect and keep that connection alive. What better way to do that than to set aside time every few weeks/month for one another?
Here are some great ways to make time for one another each and every month this New Year.
12 bucket list goals for first responder couples:
–Make your time a priority. Okay, I know this isn't a "date idea" per say, but this step is SO important to making your goal last. Plan your date, put it on the calendar for a date that is most convenient and has a low chance of being disrupted or changed and keep that date SET IN STONE. Don't let anything or anyone come in the way of your time together.
–Try a new activity together. Some ideas are: an escape room, canoeing, painting class, going to the range, cooking class.
–Date night at home. Try a DateBox Club and have a date night-in anytime your schedules allow. They provide fun themed boxes that require no prep!
–Try a new restaurant together every month. Enjoy each others company, soak up the time you have together and put away those phones.
–Take a mini-vacation. Doesn't need to be elaborate but take advantage of your spouse's days off during the week and have a night or two away in another small town or neighboring city.
Grab the All-in-One Police Wife Reference Guide
Grab this handy reference guide for all things police wife! From important dates & events to resources for law enforcement- all in one place! Subscribing also gets you access to my weekly newsletter full of tips and encouragement.
Read my PRIVACY POLICY here.
–Plan a secret date night for one another. Put this date on your calendar but take turns letting your spouse plan everything. You get no say and have to relinquish control to let your spouse plan as he/she wishes. Next month, switch and let the other person plan it all.
–Take a social media break together. Maybe this is for one day or one week, but vow to take a social media break and focus on REAL TALK together for a designated amount of time.
–Write each other love notes. Whether you write them as daily pick me-ups or monthly this is a great way to stay connected even if you can't be with one another.
–Find a new hobby to do together. Maybe it is something you both have never tried and commit to trying this new thing over the next few months.
–Give one another more praise. Sometimes we can be kick to criticize the ones we love and it can create a unwanted divide. Sit down with each other, talk and vow to give each other more praise. Maybe even write down a praise on a sticky note for one another a few times a week (to form a habit), put them in a jar so you visualize those praises vs. complaints.
–Learn your partner's love language. Once you see how your partner best receives love, it can be easier for you to meet those needs. Take the quick test, share your results and actively commit to giving in to your spouse's love language.
–Talk about sex. Yep, I said it. Sometimes it's easier to have sex if you know what your partner actually wants or likes. Open the doors for communication just a little and see what happens.
Whatever new ideas you vow to do together, be sure to commit to a stronger relationship for the both of you. I hope your relationship grows in the New Year and you make your time together a priority.
FREE Police Wife Guide- Top 10 Ways to Rock Police Wife Life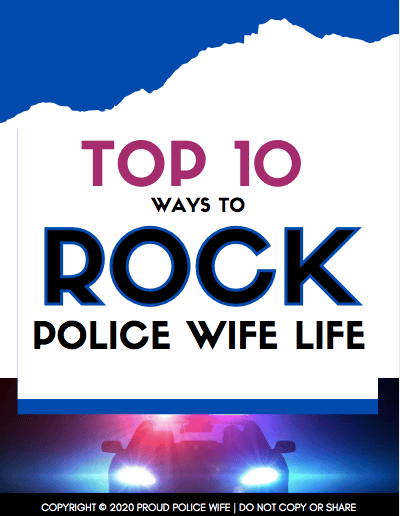 Learn to rock police wife life with these 10 easy tips! Join over 20,000 fellow police wives who are learning to rock it and feel supported with our help each week! Once a week I will provide you with even more ways to feel encouraged and supported for your law enforcement wife journey with my newsletter.
Read my PRIVACY POLICY here.