Thank you to some awesome fellow police wives for helping me to compile this list!
We've all been there right. Your officer is working, usually, it's on night shift and something happens- you can almost sense it before your officer leaves. Or maybe you have a few rituals you might do while your spouse works night shift.
I remember years ago, after we bought our first house, my husband left for evening shift as he usually did and I went to let the dog out one last time before bed. I had the front door slightly open as I called for my dog. Moments later not only did my dog rush in but so did a bird. It took me nearly an hour to get that darn bird out of my house while I continually freaked about the possible germs across my living room and kitchen.
Over the years I have now had 3 birds in my house and a ton of other crazy, sometimes stressful things happen all while my husband was working night shift and I am sure you have to (or you will)!
Without a doubt, one of these 11 things will happen, one day, while your officer works night shift:
-Something breaks
Whether it's a bone or appliance, something will break and its never at a convenient time. I have watched more YouTube videos than I can count on how to fix sinks, garbage disposals, toilets, dishwashers and more because sometimes you can't wait. Luckily, I haven't dealt with the broken bone one yet, but I don't want to jinx myself for saying that either.
-Your kid(s) get sick
It is pretty uncanny how my kids always end up sick (bless their hearts) when their dad has just left for work or is starting a busy week of shift work. The kids are tired, I'm tired and there never seems to be enough coffee.
-Your dog starts barking for no apparent reason
And the hair stands up on the back of your neck…. My dog is not a huge barker so when she does start barking it is usually cause for concern. But the middle of the night barking shenanigans is never great to wake up to but luckily nothing is usually wrong.
-Your neighbor has a question he needs you to ask your spouse
I once had a neighbor ring my doorbell (with a house full of sleeping children) at 10 p.m. to ask if I could call my husband and ask him a non-emergency question. I politely said "NO". I am sure we have all had these questions from time to time.
This is one reason we installed a Ring Doorbell, so we could see who was at the door.

-A smoke alarm/fire alarm starts chirping
With. Out. Fail. And there never seems to be a ladder high enough for me to fix it!
Tired of struggling with night shift?
You CAN find balance while your officer works night shift! This handy NIGHT SHIFT ACTIVITY LIST & TRACKER will help prepare you for any long nights ahead. Join over 11,000 fellow police wives and download your copy today!
Subscribing also gets you a weekly dose of encouragement via my newsletter.
Read my PRIVACY POLICY here.
-Your officer forgets something and you have to meet him/her somewhere to give it to them
I did this many times pre-children. But it was also a nice excuse to see him despite our busy schedules.
-Severe weather
Okay, this one can be kinda worrisome. Having to take cover in the basement with my little ones in tow knowing my officer is working with tornado watches all around- rather scary. Hopefully, this one doesn't happen often.
-You just can't fall asleep
You hear a noise. You toss and turn. You're waiting up for that good night text. It's much later than you usually stay up. Relate?
-You go into labor
Labor. Labor always happens as SOON as your officer has made an arrest or has gotten to work!
-You leave a light on in the house
Most of the time I do this so my husband doesn't come home to a pitch dark house but on occasion, it's for me.
-You spread out and take over the bed
No judgment here. A perk about when your spouse works night shift is being able to relax and hog the bed.
Got any more to add? We'd love to hear them! Comment on this post or share on your Instagram account and tag us.
FREE Police Wife Guide- Top 10 Ways to Rock Police Wife Life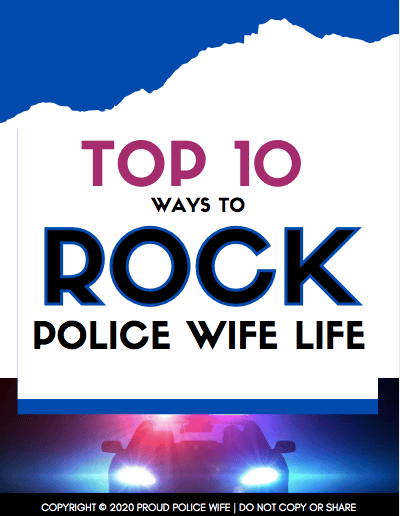 Learn to rock police wife life with these 10 easy tips! Join over 20,000 fellow police wives who are learning to rock it and feel supported with our help each week! Once a week I will provide you with even more ways to feel encouraged and supported for your law enforcement wife journey with my newsletter.
Read my PRIVACY POLICY here.