My family and I have had an Elf on the Shelf for about four years now. To be honest, we used to think "that damn elf", but the last two years we have really tried to make it fun for us and the kids.
Don't get me wrong, we still have those "oh, crap" mornings where we forget to move the darn thing, but we have gotten better at coming up with something on the fly.
Being that this is a police wife blog, I had to come up with some funny police related ideas for your elf on the shelf pleasure. I even had some fellow police wives help me out by sharing their pictures, too! But don't worry, I included pictures of non-police ideas, too. Check those out at the bottom of this post.
Without further ado, here are police themed elf on the shelf ideas:
Quarantined Elf
Nothing says 2020 like a quarantined elf. Plus, this makes your life SO much easier!
Dress your elf like a cop.
Is this not the cutest? This outfit was bought from this Etsy shop. They have donut costumes, too!
Photo credit goes to Jennifer
Dunkin Donuts drive thru? Why not?!
Photo credit goes to Erin
Are you a K9 family? This is the perfect idea!
Photo credit goes to Libby
Need Officer Elf to pull over Barbie or another Elf? Then go for these ideas!
Photo credit goes to Tiffany
Photo credit goes to Michelle
Or maybe police backup is needed?
Photo credit goes to Breanna
If you have a naughty Elf…
Photo credit goes to Jo
An idea if you have more than one elf…
Photo credit goes to Tamara
If you want your elf to show his support for law enforcement
Photo credit goes to Christina
Your Elf could be a 911 dispatcher or asking for help.
Does your Elf need to keep an eye on your kiddos? Check out these awesome Elf on the Shelf tickets! Does your son move the elf? There is a ticket for that!
Photo credit goes to FloridaFamilyFunTravel.com and https://pngtree.com/free-vectors for the Angry Santa Claus image.
Super EASY bonus ideas
Snow angels with sprinkles

Tangled up in the Christmas lights
Your Elf stuck inside a slinky
Your Elf captured by your child's favorite character
Or captured by Barbies?
Photo credit goes to Ashley
Give your Elf a boost up the tree with your kids toys. A firetruck ladder would work, too.
I hope these ideas help you to make this season more fun with your elf or at least not scrambling last minute for an idea!
Did you do something fun with your elf? Share with us and we can add it to our post!
FREE Police Wife Guide- Top 10 Ways to Rock Police Wife Life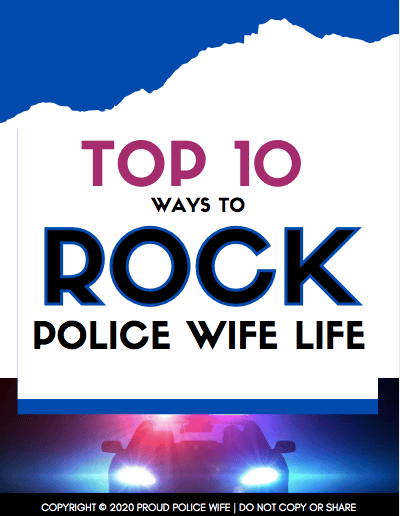 Learn to rock police wife life with these 10 easy tips! Join over 20,000 fellow police wives who are learning to rock it and feel supported with our help each week! Once a week I will provide you with even more ways to feel encouraged and supported for your law enforcement wife journey with my newsletter.
Read my PRIVACY POLICY here.