A care package is the perfect way to show someone you care no matter the occasion!
I feel very fortunate that when my husband went to the police academy, he only had to drive about 5 miles down the road. Just about everyone else in his graduating class drove from towns much further away than ours. So I don't have first hand experience with my officer being away during this long stretch of time, but I do know that experiencing the academy as a new law enforcement family can be difficult and care packages can help with that.
Or maybe you are going through a new season of life or your officer needs a pick me up. What better way to show your love, motivation, pride & support to your new officer than with care packages?
Care packages are fun to make and they are sure to put a smile on your officer's face! Once you get the basic idea of items to put in the package then the "theme" ideas are endless! Be sure to grab my free care package printables towards the end of this post.
Here is my list of care package ideas to brighten any officers day:
Get Well Soon
We all know that being sick is not enjoyable, but let's add being sick while away from home to make it even worse or after long hours on shift.
Some items to add in this box are: tissues, nasal spray, cough and cold medicine, tums, a new toothbrush (for when the germs are away), chapstick, lotion, Benadryl & Tylenol or ibuprofen.
When you have the blues
If either of you have the blues for whatever reason, then preparing and sending a care package may turn those feelings around.
Possible items to include: a list of songs for your officer to download- maybe a wedding song or song of meaning, photographs of the two of you, a hand written letter, candies or chocolate, gift card to a restaurant or coffee shop near where the academy is & "open when" letters.
My love for you reaches "this far"
Have you seen the ever so popular pictures of these? The idea is this: say Mary wants to show her love for John, she will ask friends and family from all over the country (or world) to write "Mary's love for you John, reaches….[insert city,state where friend or family member lives] on paper or on a picture. Mary will then print or collect all of these papers and give them to John to show how big her love for him is. I see people asking for help with these almost daily right now!
Other items to include: Hershey kisses, a framed picture of the two of you, a torn out calendar page of the month your officer graduates with a heart around graduation day, anything else your officer really loves!
Beaming with pride
We all know you are over the moon proud of your officer, so why not let him/her feel your pride?
Possible items to send: Any thin blue line apparel, a homemade/DIY gift showing your love and support, a picture of your new police wife apparel (my favorite place to go is Emory Lane Co), a handwritten letter or note, a special gift he has had his eye on, yummy treats.
Caffeine and Fuel (Coffee and Snacks)
What to include: Coffee from Blue Angel Coffee Company (a law enforcement owned company), a coffee cup or tumbler (Blue Angel sells police related ones, too), power bars, protein powder, gatorade, nuts or trail mix, on-the-go snacks, protein cookies
"From the Kids"
If you happen to have little ones, then this is the perfect kind of project to get them involved with! Let your kids pick all the items they think daddy/mommy will like!
What to include: cards and pictures from the kids, newly taken photos of the kids, any items your kids pick out that they think daddy will love!
Just because I miss you
Missing one another is inevitable. Don't let time pass without expressing your love for your officer.
What to include: printable police-themed love notes from our shop, a countdown on a calendar until you see each other again, a picture of the two of you, fun little treats like gum, nuts or trail mix, energy bars, gatorade.
A pick me up
Maybe it has been a little bit of a rough week or month. Show your support by sending a few items from home or that your officer loves.
Possible items to send: Beef jerky, hot hands for cold mornings, razors, flavored water or gatorade, protein cookies.
Police Academy Graduation
It is finally here! Hallelujah!! Let your officer celebrate all his/her accomplishments!
What to include: Party hats, a favorite drink or root beer (because sending actual beer may be frowned upon), a special dessert, a thin blue line gift from Thin Blue Line USA– I recommend a challenge coin, a letter outlining all his accomplishments and why you support him, a picture of you in your new police wife shirt!
Happy birthday
I mean who wants to be away or working on their birthday? Why not send a birthday in a box? Have your officer open it while on the phone with you or using Facetime or the app Marco Polo so you can sing Happy Birthday!
Items to include: Party hats, balloons, a birthday gift, candle, hostess cupcake or homemade cookies, a birthday card, party blowers; the ideas are endless with this one!
You can also download my free care package printables that help you explain the theme of each care package you send!
How to assemble your care package:
-Pick a theme from above- for this box I chose Caffeine & Fuel (Coffee & Snacks)
-Purchase the items needed for the care package + tissue paper + packing tape
-Find a box that your items fit in (I usually use old Amazon boxes)
-Fill the bottom of the box with tissue paper.  If you are crafty, decorate the inside flaps of the box to match the theme or glue on construction paper for a fancier look
-Add the "themed" items to the box. I also included a printable love note (pictured below).
–Print out one of our free care package printables to add to the top (A blank printable is also included- no words but has design if you pick a different theme)  
-Close it up with packing tape and send it off to your hardworking officer
I know life can be stressful, but I can guarantee, your officer wants nothing more than to be home with you and your family. Show them a little love and support with one of these fun, easy & quick care package ideas!
I hope you enjoyed this list! If you decide to make and send care packages to your officer please let us know! We would LOVE to share your care packages on our social media accounts!
FREE Police Wife Guide- Top 10 Ways to Rock Police Wife Life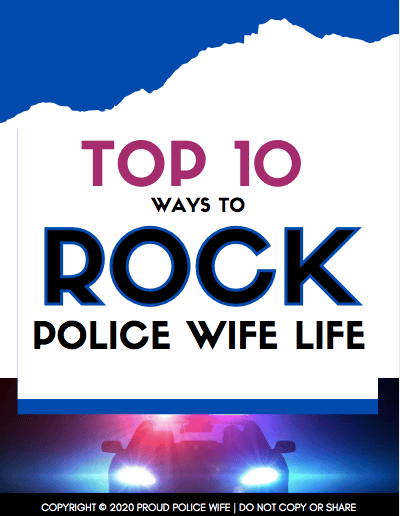 Learn to rock police wife life with these 10 easy tips! Join over 20,000 fellow police wives who are learning to rock it and feel supported with our help each week! Once a week I will provide you with even more ways to feel encouraged and supported for your law enforcement wife journey with my newsletter.
Read my PRIVACY POLICY here.