Many people have polarizing views about law enforcement that seem to change at the drop of a hat.
A few months ago, law enforcement and all essential workers were held on a high pedestal for all they did during COVID-19. Now we see a complete shift and law enforcement feels like one of the most hated professions out there.
With that have come nasty assumptions about law enforcement officers as a whole that are simply NOT TRUE.
While some of these assumptions we have always heard, there are others that we are hearing LOUDER and MORE OFTEN than ever before.
Lately, I feel like a broken record. Could we please start treating law enforcement officers as HUMANS with real feelings and STOP generalizing them? Can we STOP acting like they are SUPERHUMANS that can withstand it all and that your words/actions don't hurt them?
Honestly, I can think of more than 10 assumptions that need to stop about law enforcement but these are the most popular, sadly.
Here are 10 assumptions about law enforcement that need to stop now:
Political Affiliation
Many people assume that all police officers are gun-loving Republicans. Wrong. Each individual has their own set of political views. Your job says nothing about your political affiliation. So the assumptions about who we vote for and what we believe in can kindly stop.
That Law Enforcement Officers are Racist
This is one of the largest assumptions we are hearing right now AND IT COULD NOT BE FURTHER FROM THE TRUTH. When police officers are dispatched to a call, they are not told your gender, your race or any other identifying information. They come to you in your time of need REGARDLESS of where you live, your history, what you look like, etc. STOP judging every good officer (and yes, most officer are GOOD) on the actions on a few BAD people (yes, some people are bad and yes, they may have a job in law enforcement. That is a people problem, not a police officer problem).
That Cops are Angry
The majority of law enforcement officers entered this career to make a difference. Why? Because they are kind individuals that care about helping their community. They have hearts of service. They are NOT on power trips and angered souls with weapons.
That Police Officers WRITE the Laws
Couldn't be further from the truth. Police ENFORCE the laws, not write them. If you don't like the laws, don't complain to law enforcement, go to your legislators, VOTE.
That Cops are "Tattletales"
While law enforcement officers do have an oath to uphold and they take that oath very seriously, they are not "tattletales" for every small, bad incident they hear or see.
That Law Enforcement Officers Won't Stand up Against the "Bad" Cops
You guessed it, also WRONG. The good cops want nothing more than the bad cops to stop making a bad name for them. The good cops hate the bad cops just as much as you do and they WILL stand up against them.
Sadly, those are stories that don't meet the media's agenda so we will never hear about them.
That Cops "Signed Up for This Job" so They Should Accept Being Hated or Hurt
Yes, they chose law enforcement as their career path. But it is just that: a career, a job! It is a demanding job, that requires more than many realize, BUT it does not mean they signed up to be hated, hurt ot targeted for their profession. This is honestly the most asinine statement I've ever heard.
That All Cops get Divorced
This is an INCREDIBLY false statistic that I see thrown around all the time. Police officers actually have a divorce rate that is LOWER than the national average.
Look at the research and read more about the truth regarding divorce rates here.
That Their Lives Revolve Around the Job
Also wrong. While police officers sometimes carry the job home with them, they have families, friends, and lives outside of work. They are real people with real feelings. They like to turn off work just as you and I do.
That Police Officers Can Get You Out of a Ticket
Actually, no. If you get a ticket, you can not phone a friend. They can not erase it. There is nothing they can do. You have to take responsibility for the ticket yourself.
Overall, please just STOP assuming that you know everything about law enforcement officers. IT IS THEIR JOB. They have individual beliefs just like you and me. They are humans with feelings and making assumptions about law enforcement officers as a whole is truthfully only a poor reflection on you, not them.
The majority of law enforcement interact with citizens and treat them with kindness making no assumptions about them. Give them (and their families) that same respect and kindness.
By the way, if you know an officer who could use some encouragement, gift them this amazing book Behind the Badge. It has 365 motivating devotionals about working in law enforcement.
FREE Police Wife Guide- Top 10 Ways to Rock Police Wife Life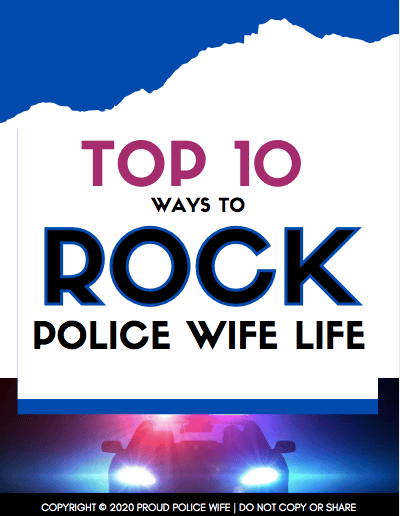 Learn to rock police wife life with these 10 easy tips! Join over 20,000 fellow police wives who are learning to rock it and feel supported with our help each week! Once a week I will provide you with even more ways to feel encouraged and supported for your law enforcement wife journey with my newsletter.
Read my PRIVACY POLICY here.